Articles containing the brand: Anti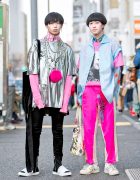 Japanese fashion students wearing avant-garde fashion by designers including Comme Des Garcons, Yohji Yamamoto, Just In Case, Hussein Chalayan, and ilil Tokyo.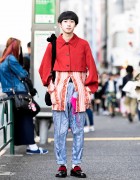 Harajuku guy wearing a cropped Jean Paul Gaultier jacket with Comme Des Garcons Homme Plus items.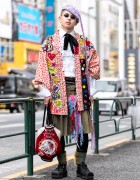 Japanese fashion student wearing a punk-inspired street style in Harajuku with a patched coat, ruffle shirt, skirt, snub nose shoes, sukajan bag, and safety pin covered beret.