Candy & Sister: Bleeding-Edge Fashion in Shibuya
A look inside Shibuya's ultra-cool select shops Candy, Sister, and the art gallery Fake – with lots of pictures.
Articles containing the brand: Candy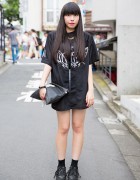 Harajuku girl with black shirt, top, clutch and sneakers with denim shorts, bangs and gold chain necklace.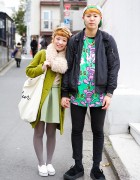 Harajuku girl with bow headband, green coat, faux fur cowl, mint skirt and canvas slippers, with Harajuku guy in graphic tee and cap, bomber jacket, skinny jeans and chain necklace.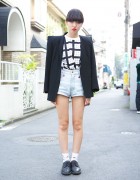 Stylish Harajuku girl in checkered t-shirt, oversized blazer, denim shorts and oxfords.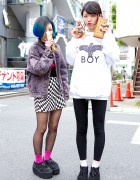 Harajuku girls in denim and check print with platform shoes, Boy London & MCM.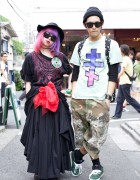 Rock style duo wearing Vivienne Westwood, Kinji, Cassette Playa & Phenomenon on the street in Harajuku.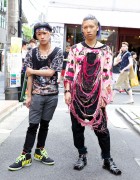 Guy in shredded top with Old Curiosity Shop shops with friend in handcuff necklace and Nike sneakers.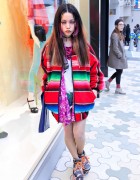 Harajuku model Hirari Ikeda with a colorful Mexican blanket jacket, tall platform sneakers by Moonspoon Saloon x Buffalo, and fantastic makeup.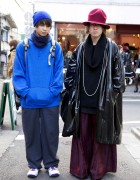 Pair of Harajuku guys in hats, cowls, loose pants and sneakers.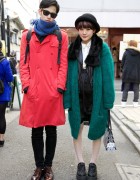 Guy in red double-breasted trench coat and Uniqlo skinny jeans with girl in long sweater and fur collar.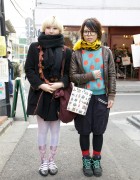 Girl in Vivienne Westwood coat & cherub tights with friend in resale leather jacket & yellow scarf.