Articles containing the brand: China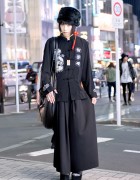 Dark Harajuku street style inspired by Chinese fashion along with streetwear items from Dolls Kill, UNIF, and accessories by the legendary Vivienne Westwood.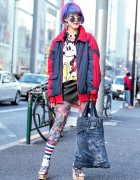 Harajuku girl wearing a resale jacket over a Mickey Mouse t-shirt with colorful tights and wooden Jeffrey Campbell platform shoes.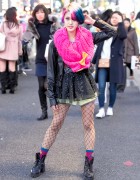 Harajuku girl with colorful hair wearing a leather jacket with a pink knit muffler, sheer skirt, fishnet stockings, boots, and a leather backpack.