Articles containing the brand: Dolls Kill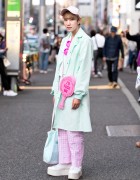 Harajuku guy in kawaii streetwear style with a long mint green coat, pink plaid pants, platform shoes and cute bags.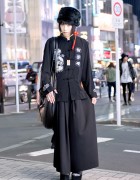 Dark Harajuku street style inspired by Chinese fashion along with streetwear items from Dolls Kill, UNIF, and accessories by the legendary Vivienne Westwood.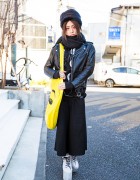 Harajuku guy in faux fur hat, biker jacket, moon print top, maxi skirt, oversized emoji bag and platforms.