Articles containing the brand: ilil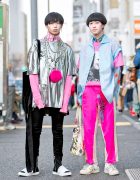 Japanese fashion students wearing avant-garde fashion by designers including Comme Des Garcons, Yohji Yamamoto, Just In Case, Hussein Chalayan, and ilil Tokyo.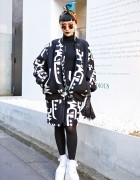 Fashion designer with round sunglasses, bandana, matching jacket and skirt, turtleneck, spiked bag and custom flatforms.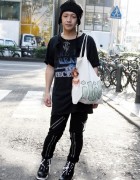 A Japanese guy who works in the fashion industry wearing a Hello Drama necklace and a bag from the Japanese brand ILIL in Harajuku.