Articles containing the brand: Kansai Yamamoto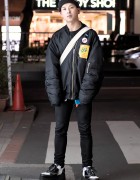 Harajuku guy wearing a gathered-sleeve bomber jacket with black skinny jeans, platforms, knit cap, and canvas bag.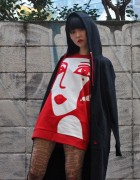 Legendary Japanese fashion designer Kansai Yamamoto will have a popup shop at LaForet Harajuku in October, 2016.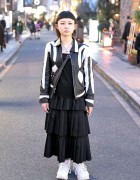 Harajuku girl with a partially shaved hairstyle, piercings, a Vivienne Westwood top, leather jacket, Monomania skirt, and Volatile platform sneakers.