Articles containing the brand: Priere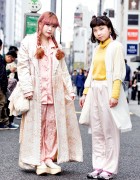 Harajuku girls wearing vintage fashion including a quilted robe, matching pajama top and pants, tabi shoes, and a handmade lace bag.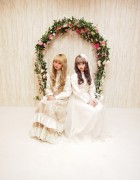 A short profile – with pictures – of the independent Japanese fashion brand Priere. Also features an interview with the brand's designer, a Bunka Fashion College student.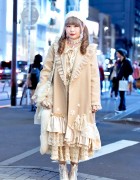 Vintage loving Harajuku fashion designer wearing a handmade lace coat and bag along with twin tails, resale items, heels, and ruffles.