Articles containing the brand: River Island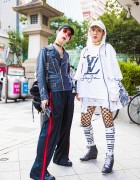 Harajuku duo street styles with leather jacket & jersey pants, sweatshirt & skirt over tights, running shoes and platform booties.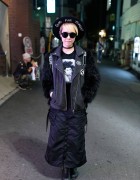 Japanese artist Choco Moo on the street in Harajuku with an Override x Choco Moo hat, Jean Michel Basquiat top & G4Life backpack.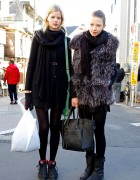 Estonian models wearing mini skirts and flats with cold weather accessories in Harajuku.