Articles containing the brand: Sense of Place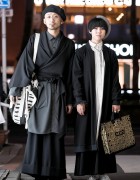 Harajuku guy and Harajuku girl in minimalist monochrome fashion with items from the Japanese brands Yu by Jalan Jalan, Comme Des Garcons, Christopher Nemeth, and CA4LA.
Harajuku duo in minimalist all black and denim fashion styles.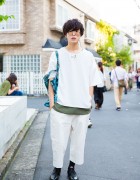 Harajuku guy in minimalist fashion style with layered shirts, khakis, resale creepers and tote bag.