Snidel
A profile of the popular and fast growing Japanese young women's fashion brand Snidel.
Articles containing the brand: Snidel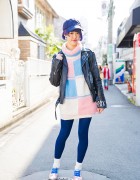 Harajuku girl with purple hair & blue cap in biker jacket, color block sweater, mini skirt, pastel satchel and silver shoes.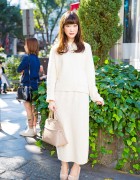 Harajuku girl in matching knit sweater and maxi skirt, with nude bag and shoes, and rhinestone jewelry.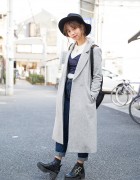 Harajuku girl with hat, maxi coat, crop top over long sleeve, rolled up jeans, backpack and buckled ankle boots.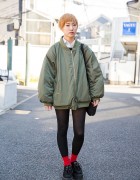 Short-haired Harajuku girl with oversized green bomber jacket and shorts, tote bag, red socks and creepers.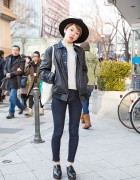 Harajuku girl with short hair and hat wearing layered jackets over a sweater, jeans, tote bag, nail art and pointy shoes.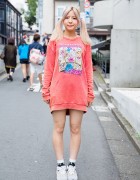 Harajuku girl with twin tails and cute oversized sweatshirt, heart and bow rings, socks and sneakers.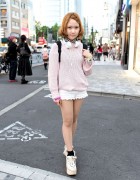 Harajuku girl wearing a Snidel sweater with H&M lace shorts, Tokyo Bopper platforms and a Nike backpack.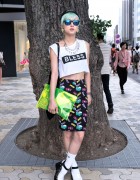 Japanese fashion blogger with short green hair, crop top, graphic skirt, and platform sandals on the street in Harajuku.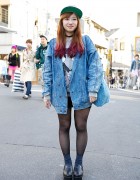 Oversized denim jacket with Joyrich x Mickey Mouse top, mini skirt and flatforms.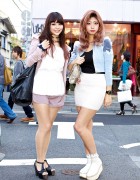 Two Harajuku girls with ombre & pastel hair, wearing high shoes and mini bottoms.