Style Icon Tokyo – "Harajuku Neo Street" Fashion Brand Debut Exhibition
A report and pictures from the debut exhibition of Harajuku streetwear brand Style Icon Tokyo.
Articles containing the brand: Style Icon Tokyo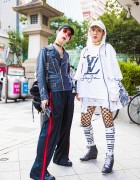 Harajuku duo street styles with leather jacket & jersey pants, sweatshirt & skirt over tights, running shoes and platform booties.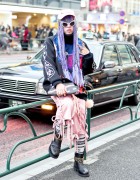 Purple-haired Harajuku guy wearing a DVMVGE sweatshirt with boots by Moschino, NicoPanda cropped pants, and Vidakush accessories.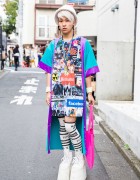 Harajuku guy with white hair and bucket hat wearing an oversized top with striped socks, overcoat, tote bag and tall platforms.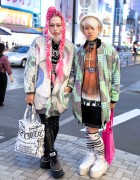 Pink-haired Harajuku guy wearing a W.I.A Collections bomber, KTZ top & Buffalo platforms with a friend in W.I.A, OS Accessories, YRU & Nikki Lipstick.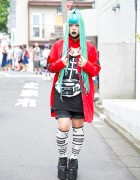 Harajuku guy with blue braided hair wearing a red shirt over a t-shirt, shorts, bones necklace, rings, long socks and flatforms.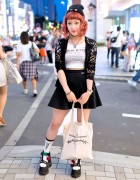 Japanese fashion blogger with colored hair wearing a Bubbles Harajuku top, Vision Street Wear skirt and K3 sandals with Style Icon Tokyo socks.
Stylish Harajuku guys wearing fashion from Jeremy Scott, Tata Christiane, Long Clothing, OS Accessories and Style Icon Tokyo.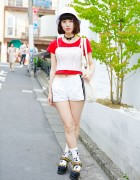 Harajuku girl with bob hair and hat wearing a bustier over a t-shirt, with sports shorts, tote bag, choker and socks with sandals.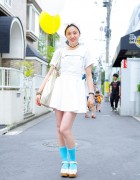 Harajuku girl in headscarf, pinafore dress, socks and sandals, golden bag and jewelry.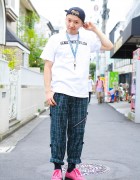 Indie streetwear designer in white t-shirt and plaid pants with pink shoes, key necklace and backwards cap.