Articles containing the brand: Sub-Age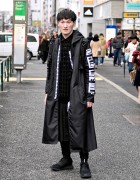 Harajuku guy wearing a long hooded coat by the Japanese designer MiharaYasuhiro with Sub-Age pants and Adidas Tubular Doom sneakers.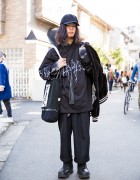 Harajuku guy with long hair and cap in sweatshirt, souvenir jacket, black pants, sneakers, braided necklace and knit bag.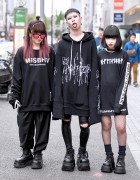 Three staffers from the popular Tokyo boutique Never Mind the XU in monochrome styles on the street in Harajuku.