Articles containing the brand: Yoshida Beads
Colorful resale fashion and kawaii accessories on Takeshita Street in Harajuku.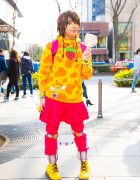 Harajuku girl in decora street fashion with yellow hoodie, pleated skirt over pants, pink backpack, yellow boots, and decora accessories.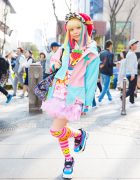 Harajuku model and vocalist wearing kawaii street fashion with tulle skirt, jacket and all over print hoodie, statement necklace, smiley face socks and platform sneakers.