After the tragic events of the last month, it was a sign of great hope that sports, street demonstrations, hanami (cherry blossom viewing) parties and fashion shows took place over the last few days in Tokyo – a city desperate to get back on its feet and return to some semblance of normality.
Although Christian Dada is a relative newcomer to the arena of Tokyo fashion – it's only stocked in a handful of boutiques such as Shibuya's Candy – it reminded us of everything that's great about Tokyo and Japan. Creative, edgy, beautiful and inspiring, the collection for AW11 was exactly the kind of boost the Japanese fashion industry so desperately needs. Designed by Masanori Morikawa, Christian Dada shares similarities with many of its peers in Tokyo: the exotic European name also found in Davit Meursault, the use of Japanese history evident in brands such as Matohu, the punk and youth culture approach seen in Phenomenon and Discovered, and the architectural shapes and cutting of the legendary Issey Miyake.
Morikawa's debut collection, "Gleam", was inspired by disparate sources – punk icon Sid Vicious, ancient military armor and the Sengoku era (civil wars of 1467 – 1573) of Japanese history. Together with headwear stylist Kunio Kohzaki's outrageous and amazing display of millinery, the apparel looked and felt so appropriate for contemporary Tokyo.
The womenswear focused on body-con and jacquard dresses with an intermittent use of vinyl and leather in a host of colors including red, white, pops of cobalt blue and black. The drips of red, also found in the menswear, were included to symbolize the bloodshed of the civil wars and could also represent lives lost in more recent times.
The punk aesthetic found in the menswear – with ripped, repaired and studded jeans, bare torsos and spiky headgear – was more derivative but still managed to shine through as the designs, although heavily influenced by late 70s and early 80s Britain, took on a look of their own. Sanae Yoshida and Tatsuya Kimura's Discovered shared a similar vision for its SS11collection by twisting and reinterpreting punk for a more contemporary look.
Christian Dada represents the next generation of Japanese brands taking inspiration from the past, the hurt and confusion of the present, and optimism for the future. Morikawa and his peers may well be the future of Japanese design. Hopefully names such as Christian Dada can spearhead a new era of Japanese creativity, and in doing so revitalize a country which has been temporarily battered and broken.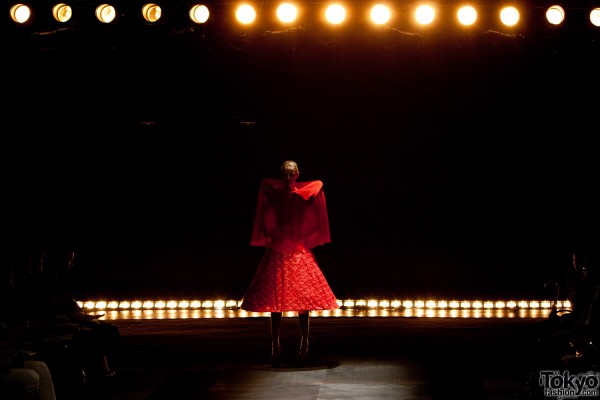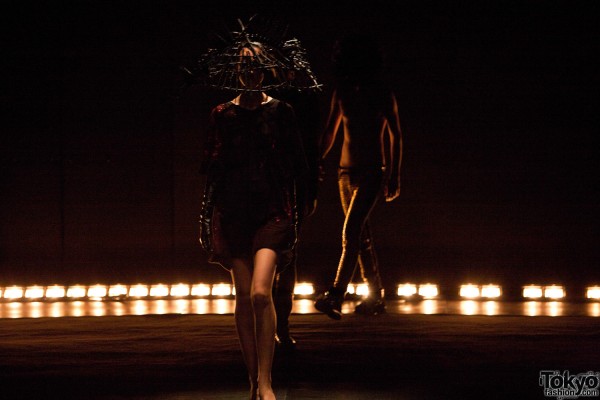 Click on any of the pictures to enlarge them.
External Links for Christian Dada:
Article text by Paul McInnes and all photos by Ash Geary.
About the author:
Paul McInnes is a fashion and arts journalist based in Tokyo. He is the fashion editor (menswear) and contributing arts editor of The Japan Times. He is also the Tokyo editor of Sportswear International and contributes to publications such as High Fashion, Dazed Digital, JC Report and Japanese Streets. He has also been interviewed for TV including NHK's Tokyo Fashion Express and lifestyle magazines such as Metropolis and Kaleidoscope magazine.
About the photographer:
Ash Geary has 20 years of experience in fine art, design and photography. His work spans fashion, editorial, commercial and portrait work. He is based in Tokyo and further info can be found at AshGeary.com.