If you've been anywhere near Shibuya, Shinjuku, or Harajuku this summer, or if you are a Japanese manga fan, Detroit Metal City probably needs no introduction. The manga has a rabid following of young Japanese girls and guys who wear the shirts, pimp their phones with the DMC phone straps and stickers, and can't stop talking (and laughing) about it. For the entire summer of 2008, Tower Records Shibuya seems to have had one event after another promoting the live action movie. Well, late last month, the DMC movie finally hit theaters. What does any of that have to do with Tokyo Fashion?
To celebrate the release of the live action DMC movie on August 23, 2008, Beams Japan has released a number of limited edition goods. Some of the goods are just phone straps and Detroit Metal City Bearbrick figures (great for you figure collectors, but not really fashion). But, one of the movie tie-in items caught our eye — these DMC Converse-inspired canvas high top sneakers. There are two different versions, both of them are limited edition.
Here are pictures of the black and white DMC Sneaker: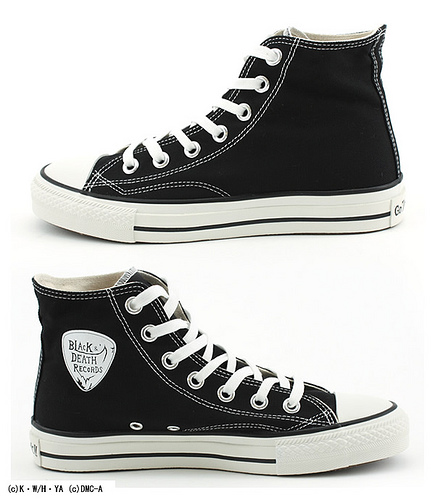 And here are photos of the white version of the shoes:
Whether you like the black or white version, the price is the same — 8,925 yen (about $90 US). The DMC shoes are available in Japanese sizes 25.5, 26.5, and 27.5. They appear to have also made some in smaller girl's sizes 23.5 and 24.5, though those seem to be sold out already.
The Detroit Metal City shoes are available in very limited quantities at Beams Harajuku and Beams Shibuya and online at Zozo Town. They appear to be selling out quickly, so they may be all gone by the time you read this. As mentioned, DMC has many dedicated fans and no doubt they will be racing down to Beams for these.
There are more DMC sneaker photos at the Tokyo Fashion Flickr Set.