The 2012 S/S edition of Japan Fashion Week (aka Mercedes-Benz Fashion Week) in Tokyo is under way! Several times each day, TokyoFashion.com's contributors are reporting back from runway shows and events all over town. Be sure to check out all of our Mercedes-Benz Fashion Week Tokyo coverage.
On Monday, October 17th, Japanese label G.V.G.V. showcased their 2012 Spring/Summer collection on the runway at belle salle SHIBUYA FIRST.
G.V.G.V. is the brainchild of designer MUG. Born in 1971, MUG graduated from Kuwasawa Design School in 1999. Her designs are "a mix of femininity and masculinity, with free sensitivity". In addition to her own creations, MUG is also the buyer for the womenswear select shop k3 Daikanyama, and enjoys choosing "wonderful creations" from international and Japanese labels.
GVGV 2012 S/S runway show featured models styled as 1950s pinup girls on vacation at a tropical resort – complete with sunglasses. The outfits included high-waisted shorts, thin belts, retro skirts (some with sheer elements adding a slightly this-season edge), and platform heels – all in resort-friendly colors and Hawaiian-prints. We're not 100% sure what to think of the collection yet, but MUG is an exceptionally creative designer and this isn't the first time she's presented a show that put us slightly off balance.
Please click the G.V.G.V. thumbnails below to see the full sized versions of all of the pictures for yourself.
G.V.G.V. 2012 Spring/Summer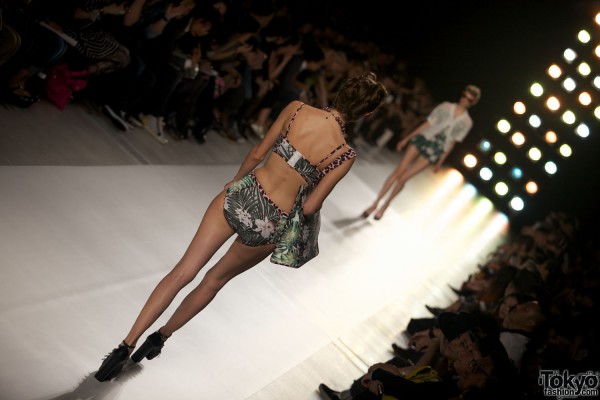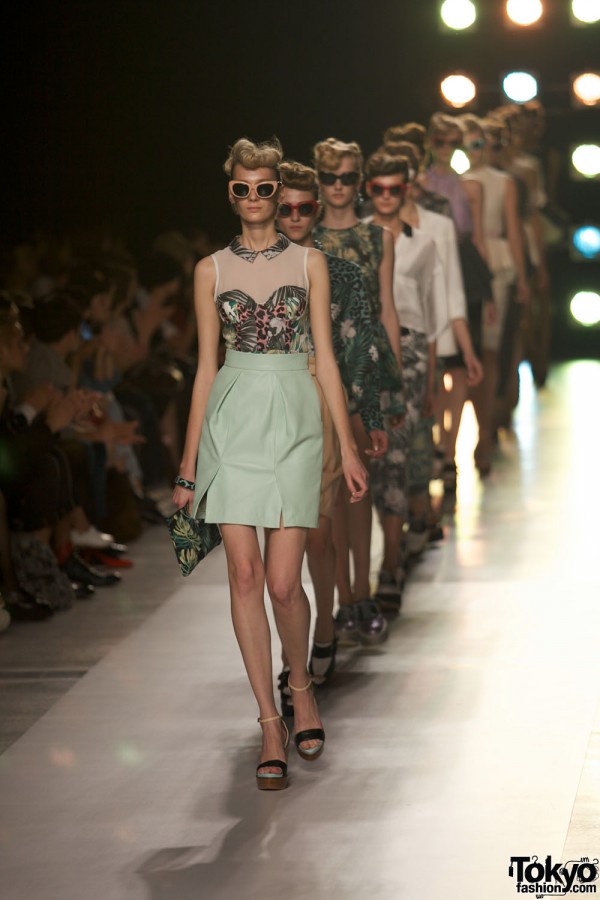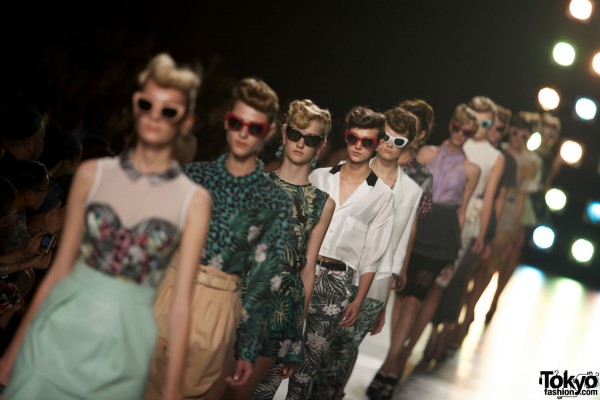 Click any of the G.V.G.V. pictures to enlarge them!
External Link: G.V.G.V. Official Website
***
About the photographer:
As long as he is behind his camera Will is a happy man. He has photographed everything from the slums of Bangkok to the catwalks of Tokyo. He is a contract photographer for Lonely Planet, his images and photo essays have appeared in Time Out, The Japan Times, Sportswear International and a variety of other newspapers, magazines and guidebooks around the world and his photo essays from Iraq for The Griffith Review even earned him a mention in the Australian book review of the year in 2006. In addition to his media related work, Will also shoots events, portraits, weddings and the occasional CD cover. Whatever he's working on, he always writes about his jobs and how he goes about them at Will Robb Photography.