Articles that sound like: Depagumi.inc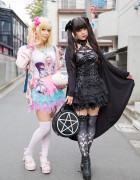 Harajuku girl in all black corset dress, jacket, over the knee socks, pentagram bag and ankle boots vs. girl in pastel t-shirt and skirt, lolita shoes, anime/manga accessories and pins.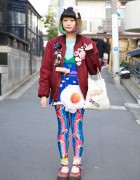 Harajuku girl with rainbow hair, cute graphic leggings, a burgundy bomber jacket with pins, egg bag, and Tokyo Bopper platforms.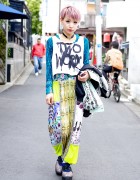 Stylish Lilac-haired Mikako in Harajuku – with colorful pants, graphic tank top & glitter rocking horse shoes.