On Valentine's Day, Radiohead announced that their long-awaited next album – "The King Of Limbs" – would be available for digital download starting this weekend. Perhaps sensing that the album announcement alone might not cause quite enough pandemonium with their dedicated (fanatic?) fan base, the band followed up yesterday with a mysterious Twitter post in Japanese. The short message, posted from the official Radiohead Twitter account, immediately set the British music press – and the music blogosphere – on fire.
The New Music Express quickly posted a (questionable) translation of the Tweet on their website with the following message:
(The Tweet) roughly translates as, "Hachiko Square Shibuya, 59 minutes at 18 Friday". Fans are now speculating that the band may appear at the square at 18:59 (JST) tomorrow (Friday, Feb. 18, 2011), which would be 4:59am UK time on Saturday morning.
Many Radiohead fans – especially those in Japan and those insane enough to consider booking a flight to Japan just for this secret show – began to imagine all sort of possibilities. Would this be a guerilla show where they play the entire new album? Would the band play a show on top of Shibuya Station and film it like U2 in their classic "Where the Streets Have No Name" video? Would Thom Yorke be passing out free copies of the album on Radiohead shaped USB sticks in front of the famous Hachiko statue? Anything – and everything – was possible, and no matter what, the crowds would be huge! Until…
Word of the free Radiohead show in Shibuya spread quickly around Tokyo via Twitter, Mixi, Facebook, and word of mouth. It didn't take long for that "word" to reach Radiohead's record label in Japan, Hostess. Hostess likely decided they didn't want any part in the riot that might break out if 100,000 people showed up at Shibuya Crossing, only to find out that Thom Yorke was nowhere near Tokyo, or even Asia. So, Hostess issued and urgent late night message (in Japanese) to all Radiohead fans in Japan. The message (translated into English by us) reads as follows:
Important Announcement: About the tweet by Radiohead

February 17 – At around 19:00, the tweet message "Hachiko Square, Shibuya, Friday 18:59" was posted on Radiohead's official twitter account (@radiohead).

Following from this tweet, there have been messages on Twitter and other reports speculating about the band's return to Japan and a possible live performance. However, there are absolutely no plans for any such event. As our company has had numerous enquiries and comments with regard to this, we though we should let you know.

February 18, 2011 Hostess Entertainment Unlimited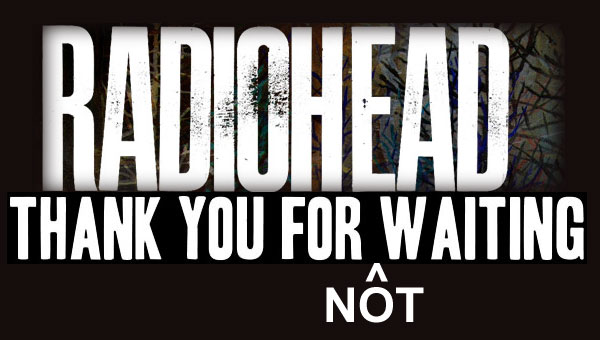 Is this message from the band's Japanese label the final word and the absolute truth? Is the record label just denying everything to try to keep the crowd down to a reasonable size when Radiohead does show up to play a free show? Will the band appear via video linkup on the big screens that tower over Shibuya Crossing, but not in person? Did someone who speaks Japanese hack the Radiohead Twitter account? We have no idea, but we're hoping to find out tomorrow in Shibuya at 6:59pm.
See you there!
Update: The band has now released an official statement saying they will not be playing a show in Tokyo on Friday. Guess we won't see you there after all.