Sebastian Masuda's work is familiar to any serious fan of Japanese fashion and pop culture. He first came to the world's attention in the late 1990s as the director of the Harajuku "Kawaii Anarchy" fashion brand 6%DOKIDOKI. Several years ago, his work as Kyary Pamyu Pamyu's art director brought his signature colorful style to a much wider audience, both in Japan and abroad. In 2014, Masuda took step away from fashion and art directing with his New York fine art debut exhibition "Colorful Rebellion – Seventh Nightmare".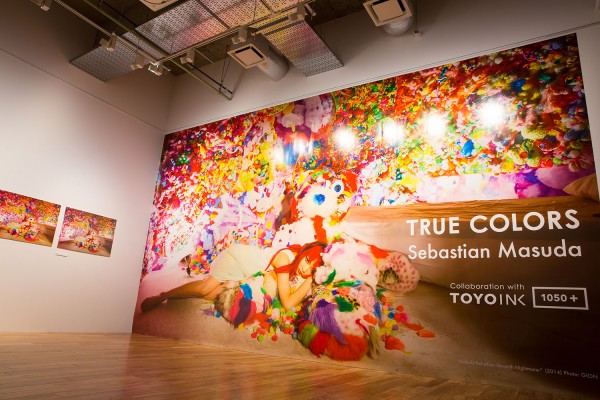 When Masuda's "Colorful Rebellion – Seventh Nightmare" exhibition opened in New York City, over 1,000 people showed up on the first day. Since then, he has been working on several other art projects (including his "Time After Time Capsule" series), but he was also working on bringing the New York show to Tokyo to share with his fans in Japan. Earlier this month, Masuda announced a private art exhibition titled "True Colors" would be opening in Tokyo.
The interest in the Tokyo "True Colors" exhibition has been so high, the artist just announced that the show will open to the public for two days only – December 26th and 27th.
"True Colors" features Sebastian Masuda's original artwork from the "Colorful Rebellion – Seventh Nightmare" New York show, other works from the "Colorful Rebellion" series, work from "Time After Time Capsule" series, print works, and other stand alone works (both new and old). "True Colors" is the largest showing of Masuda's fine art to date, offering viewers an understanding of the underlying concepts in his entire body of work.
Masuda's "True Colors" exhibition will be open to the public from 14:00 – 18:00 on December 26th and 27th only. The location of the exhibition is T-Art Gallery in the Shinagawa area of Tokyo. If you are interested in Sebastian Masuda's work – or Japanese contemporary art – we highly recommend that you check out the show. Here are all of the details:
Sebastian Masuda "True Colors" Art Exhibition
When: December 26-27, 2015 from 14:00-18:00
Where: T-Art Gallery, Shinagawa, Tokyo
Admission: Free Admission
Nearest Train Station: Tennozu Isle Station
Gallery Map: Tokyo Art Beat Map
Artist Website: Sebastian Masuda
The "True Colors" show is produced with the support of Japanese art storage company Terrada.
Click on any "True Colors" photo to enlarge it.