Japanese shironuri artist Minori has been featured on TokyoFashion.com many times. We take photographs of her amazing outfits when we see her in Harajuku, and we even produced a short documentary about Minori's shironuri world.
After knowing Minori for so long, we were very happy to be invited to her new art exhibition "Leblanc Chemistry". The exhibition at Ginza's Qualiajunction Gallery is open through November 20, 2013. Minori will be in the gallery every day of the exhibition. So if you're in Japan, it's the perfect opportunity to meet her and experience Minori's art first hand.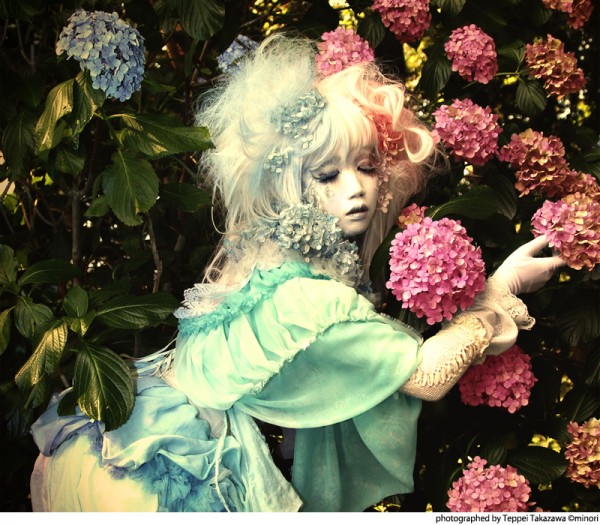 The "Leblanc Chemistry" exhibition features beautiful new photographs of Minori by Japanese photographer Teppei Takazawa, as well as several original costumes that Minori created for her photo shoots. Minori's personal paintings and drawings are also included in the show. A key component of Minori's art is her own life as a shironuri, so the fact that Minori will be in the gallery every day (in full shironuri makeup and fashion) is perhaps the centerpiece of the show.
"Leblanc Chemistry" runs from November 11-20, 2013 (11am-6pm daily) at the Qualiajunction Gallery in Tokyo's famous Ginza neighborhood. The exhibition is free and Minori told us that she would love to meet people who are interested in her work. For more information, check Qualiajunction's English website (with a map). Please note that the gallery is closed on Sunday the 17th.
Enjoy these photos of Minori's exhibition! We hope that you can make it to the show in person and meet Minori!
Click on any Minori "Leblanc Chemistry" photo to enlarge it.
More info: Qualiajunction's English website