Posts Tagged 'decora girl'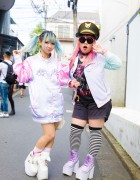 Harajuku girls in kawaii pastel fashion with varsity jackets and platform shoes.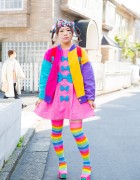 Colorful Harajuku decora girl with hair accessories, colorblock jacket, bows dress, rainbow over-the-knee-socks, wedge sandals and backpack.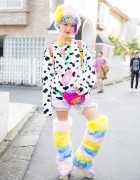 Harajuku girl with faux fur hat & legwarmers, plush sweatshirt, shorts, plastic jewelry, waist bag & backpack, and pastel stars shoes.