Posts Tagged 'Disney princesses'
Harajuku girls wearing cute pink fashion including berets, hair clips, The Little Mermaid sneakers, and a Hello Kitty purse.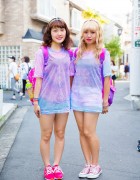 Harajuku girls in colorful fashion with tie dyed mesh shirts, bottoms, sneakers and colorful accessories.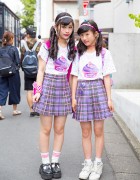 Harajuku girls in twin tails, cupcake t-shirts, plaid skirts, backpacks, princess necklaces, and matching jewelry.