Posts Tagged 'Dr. Martens boots'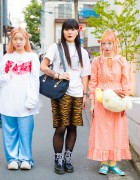 Harajuku girls in resale fashion with gingham dress, camisole over sweater, turtleneck top and Pompompurin plush accessories.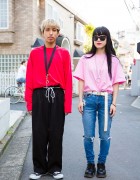 Harajuku duo in resale fashion long sleeve top, black pants, t-shirt, ripped jeands, sneakers and boots.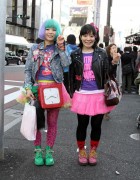 Two Japanese girls in t-shirts and pink skirts with colorful boots – and one with a vintage bag with a huge clock on it – in Harajuku.