Posts Tagged 'Korean streetwear'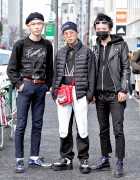 Harajuku Guys in FaTToyz fashion with friend in punk look with biker jacket and another friend in eyeye "Forever Young" long sleeve top.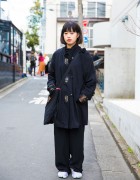 Harajuku girl in all black outfit with used/resale pants, top & duffle coat with sling bag and Nike Air Rift BR.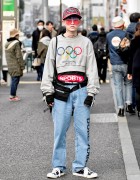 South Korean streetwear designer on the street in Harajuku wearing fashion by his own brand More Than Dope along with a plaid visor by ESC Studio.