Posts Tagged 'logo necklace'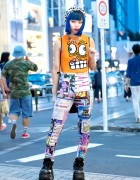 Lady Gaga fan on the street in Harajuku wearing a colorful style with blue hair, eyes top, graphic pants, platform shoes, statement necklace, and sackpack bag.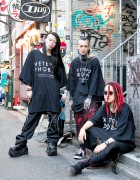 Three Harajuku guys wearing oversized tops by the Finnish brand Heterophobia with Demonia boots, Juvenile Hall Rollcall shorts, tattoos, and piercings.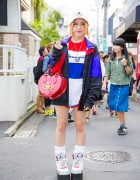 Harajuku girl with cap, t-shirt, shorts and jacket, heart shaped bag, flatforms and silver jewelry.