Posts Tagged 'patterned stockings'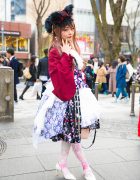 Harajuku girl in lolita floral fashion with capelet, hoop skirt, jumperskirt, printed stockings and cutout pointed pumps.
Stylish New York Joe Exchange staffer with silver hair and a detailed all-black outfit on the street in Harajuku.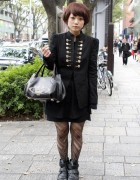 A stylish Japanese girl with cute hair and a cool black military jacket with gold buttons – on the street in Harajuku.