Posts Tagged 'quilted coat'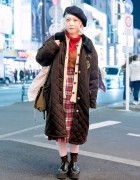 Harajuku girl in vintage fashion with quilted coat over cardigan, plaid midi skirt, platform loafers, a beret and canvas shoulder bag.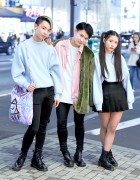 Yoshiaki, Michi & Noboru on the street in Harajuku wearing pastel Bubbles sweatshirts, skinny jeans, a Stussy coat, pleated skirt, and Dr. Martens boots.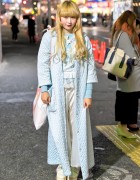 Blonde Harajuku girl wearing a long quilted coat over a lace top, satin pants, and ribbon-laced platform shoes.