Posts Tagged 'Rumanjyu'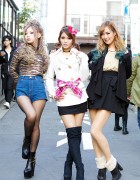 Models in Harajuku wearing mini skirts and shorts, with dyed hair, high heels, colored contacts and cute hairstyles.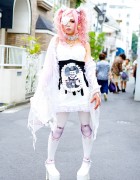 Harajuku model with pink hair, devil horns and eye patch with white outfit and platform heels.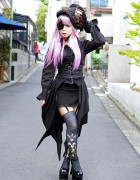 Harajuku model Rumanjyu wearing a gothic outfit with garter stockings, mini skirt, corset belt and handmade hat.