Posts Tagged 'spiderweb'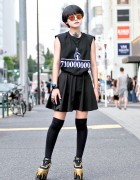 Harajuku student wearing a sleeveless top with a black skirt, knee socks, and gold dripping paint platform shoes.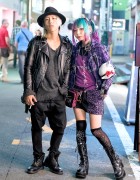 Harajuku guy wearing a Zac Vargas leather jacket, Julius pants & Dr. Martens vs a Harajuku girl in Sexy Dynamite London plaid with platform boots and a cute h.NAOTO Angry plush.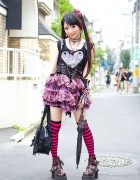 Harajuku girl with twin tails with bows, spiderweb and skeleton jewelry, wearing a heart corset, animal print tutu, striped over the knee socks, cut out ankle boots and wings backpack.