Posts Tagged 'The Little Mermaid'
Colorful resale fashion and kawaii accessories on Takeshita Street in Harajuku.
Harajuku girls wearing cute pink fashion including berets, hair clips, The Little Mermaid sneakers, and a Hello Kitty purse.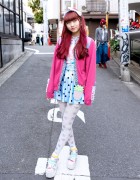 Pink-haired Harajuku girl wearing a cute outfit that features a lace-decorated sweater with a polka dot skirt, candy hearts tights and platform sandals with socks.