Posts Tagged 'velvet jacket'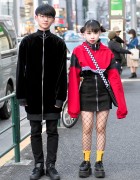 Harajuku guy in velvet jacket, skinny jeans & sneakers with Harajuku girl in oversized jacket, front zipper skirt & platform creepers.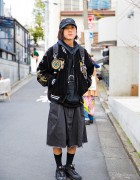 Harajuku guy with cap, wearing a velvet dragon jacket, hoodie, 3/4 pants, backpack and sneakers.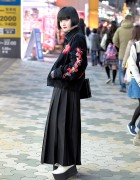 Harajuku girl with an asymmetrical black bob hairstyle wearing a tiger souvenir jacket with a pleated maxi skirt, platforms, and a box purse.