Kyary Pamyu Pamyu Crowned Harajuku Kawaii Ambassador
Kyary Pamyu Pamyu is the undisputed star of Harajuku fashion today. Over the last couple of years, we watched with astonishment as Kyary evolved from being a cute high school girl with a kawaii sense of style who we would would often see wandering the streets of Harajuku into a star with a best-selling album, countless TV appearances, and huge billboards all over Tokyo. Cementing her "queen of Harajuku" status, the mayor of Shibuya has bestowed the title of "Kawaii Ambassador of Harajuku" upon Kyary.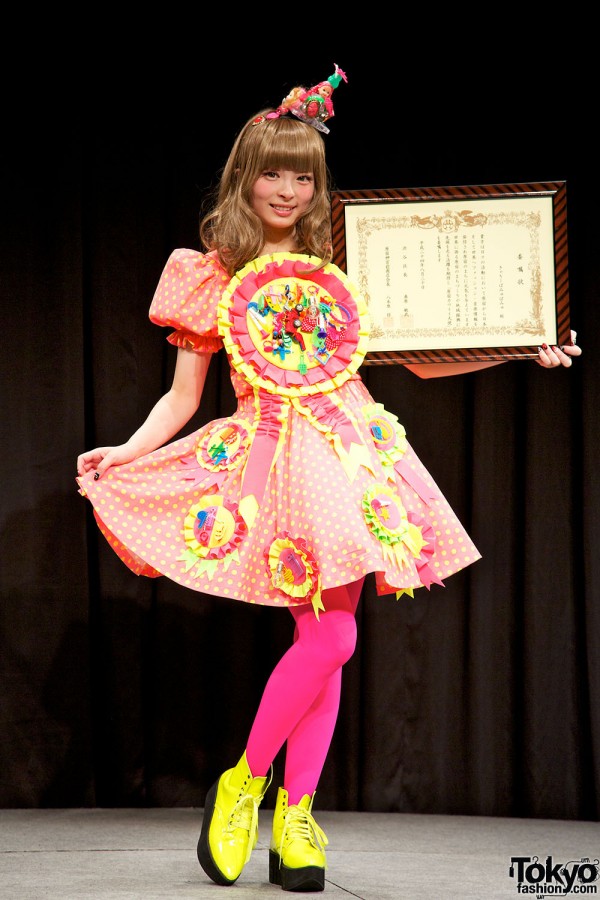 Kyary's crowning as "Kawaii Ambassador of Harajuku" took place during a ceremony at LaForet (the most famous department store in Harajuku). The event featured a presentation on the history of Harajuku, appearances from several famous "kawaii" models (including Seto Ayumi), speeches by several important figures in the Harajuku business community, and the presentation of Kyary's new title by Shibuya mayor Toshitake Kuwahara.
Kyary talked about her discovery of Harajuku during high school, how she became popular after appearing in street snaps, her modeling work, and how Harajuku has changed her life and made her happy. Kyary's job as Harajuku's Kawaii Ambassador will be to "transmit Harajuku culture to the entire world". That's a task that Kyary has already been enthusiastically undertaking – from her trip to Los Angeles last winter to her French concert earlier this year.
With city and business leaders involved, the ceremony was a big deal and definitely had a few serious moments. That said, the theme of the night was "kawaii" – and there's only so serious you can be when you're wearing a dress and hat covered in colorful toys. Kyary Pamyu Pamyu kicked off her Harajuku Kawaii Ambassador reign with a high-energy live set featuring her hits "PonPonPon" and "Tsukema Tsukeru" – accompanied by cute dancing kids and lions.
We've been covering Kyary since her high school days back in 2009, so we were very happy to be invited to see her crowned Harajuku Kawaii Ambassador. We brought back a bunch of exclusive pictures – of the ceremony, and of her live performance – to share with you. Please enjoy the pictures, and long live Harajuku!
Harajuku Kawaii Ambassador Kyary Pamyu Pamyu
Click any of the Harajuku Kawaii Ambassador photos to enlarge them!
For more info on Kyary, you can check out her official website!
Photos by Kira.
***
About the photographer:
Born in Japan, educated in Japan and the US, Kira shoots exclusively with Canon DSLRs. Photography assignments include fashion, bands, sporting events, and portraiture for various companies and bands throughout Japan & the world. His portfolio can be viewed at Artist-Photo.