ROCK STAR BANG! Fashion Show & Le Baron de Paris Tokyo 4th Anniversary Party Pictures – Day 3
If you've been following our coverage of Le Baron de Paris Tokyo's three-night 4th anniversary celebration, you know that the Le Baron crew knows how to party. The final night of Le Baron's birthday party – called ROCK STAR BANG! – wasn't just about drinking and dancing (although there was plenty of that). It also included a fashion show featuring designs by some of Tokyo's top up-and-coming creators. Like the previous nights' Masquerade Bang and Tokyo Bang, stylish Tokyoites showed up by the train-load to toast Le Baron de Paris and to see what surprises were in store at the ROCK STAR BANG! fashion show.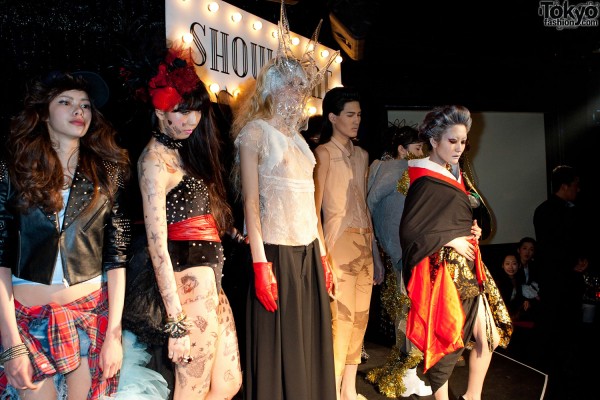 The dress code for ROCK STAR BANG! was "I'm a Rock Star". Clubgoers took the theme in a myriad of directions, but none so far as the musical entertainment for the night – The Shining Twins. Finally out from behind the DJ booth, the "Twins" unleashed a loud punky live set. Also on stage, the Rock Star fashion show wowed the crowd. Talented young creators were challenged to coordinate fashion with the theme "Rock Star". A panel of fashion industry names – including Vogue Japan's special project director Sayumi Gunji and Nylon Japan editor Takashi Togawa – pored over the creations to choose the top 11 ensembles.
The 11 fashion designers/creators showing at ROCK STAR BANG! were Ayako Matsuzaki, Balmung, Motoko Hayashi, Joe TokyoDandy w/ Dressedundressed, Rumiko Koyama, Takayuki Tanaka, Takuma Watanabe, Tatsuya Shimada, Yuuka Akaishi, Yuuki Tezuka, and The Shining Twins. We brought back lots of pictures of the outfits created by these talents, as well as plenty of pictures of the party itself and The Shining Twins live set. Check them all out below, and don't forget that you can click any of the pictures to see them in super-high resolution!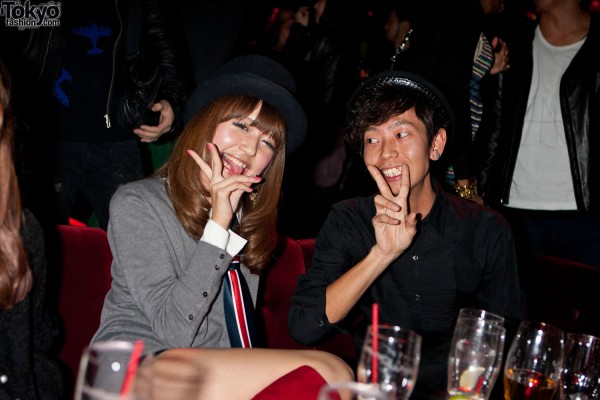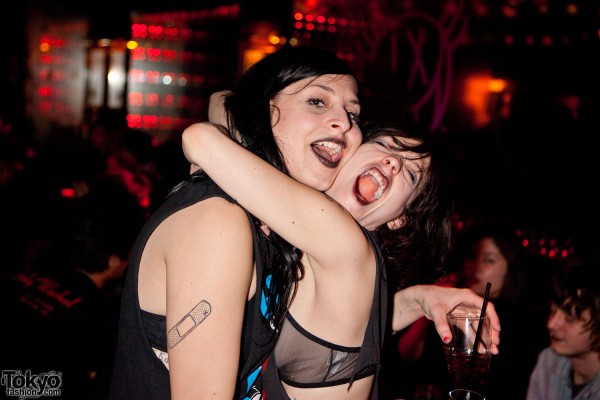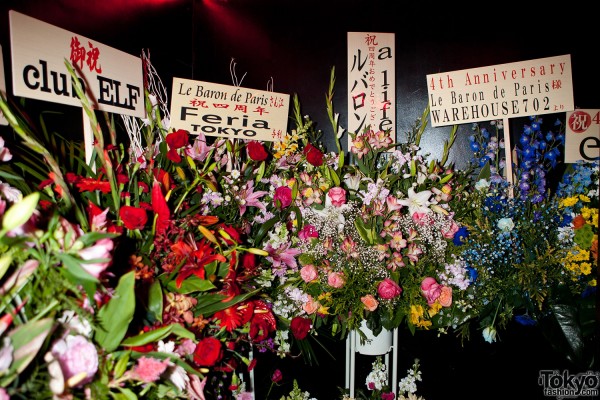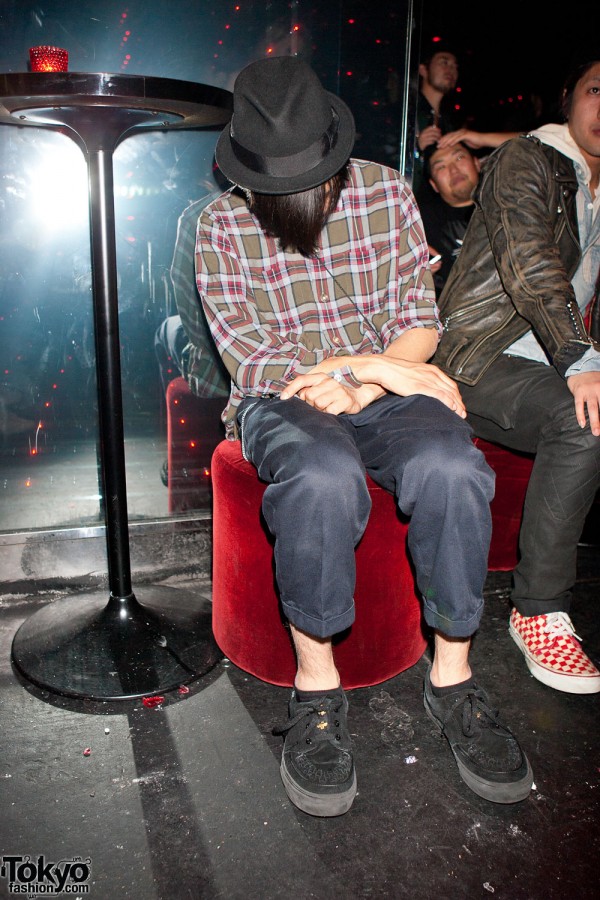 Click any of the pictures to blow them up!
The ROCK STAR BANG! fashion designers – and their teams – were as follows:
Ayako Matsuzaki
· hair / Fujiu Jimi for Shinya salon
· makeup / hirotaka
· model / NOZOMU(image)
Balmung (Hachi)
· hair & makeup / TARO
· model / yamashita shohei
Motoko Hayashi
· hair / FUJIU JIMI for SHINYA salon (PRIMAL)
· makeup / YUKI MAEKAWA
· Mame
Joe (TokyoDandy) & Dressedundressed (Takeshi Kitazawa / Emiko Sato)
· costume design / Dressedundressed
· model / Fuyuri (from Sister)
Rumiko Koyama
Takayuki Tanaka
Takuma Watanabe
· hair & makeup / ARI
· model / Yuko Ikuno (il bento)
Tatsuya Shimada
· hair / Kunihito Furuya
· model / detto K
Yuuka Akaishi
· hair & makeup / Aya Takahashi
· special effects makeup / Shuichi Sugaya
Yuuki Tezuka
The Shining Twins (from NYC)
Alex Weiss and Marisa Kreiss are collectively known as The Shining Twins.
These are some of the young up-and-coming designers that will be "what's next" in the Japanese fashion scene, so don't be surprised if you see a lot more of them in the near future!
Now that all three nights of anniversary parties are over and posted here for you to enjoy, we want to send out a big thank you to the Le Baron de Paris Tokyo crew. We appreciate them inviting us to their birthday party and we wish them many more years of great parties and good times. For more information on upcoming Le Baron events, check out their official website.
About the photographer:
Michael Steinebach has been fortunate enough to travel and see the world. Exposed to the limitless possibilities of photography 20 years ago, he grew up looking at things differently. He currently shoots in the areas of people, fashion, and news photography in Japan. He maintains a Facebook page with samples of his work. He can be emailed about contract work or with questions or comments on his photography.