Somarta 2011 S/S
The 11th Japan Fashion Week in Tokyo is happening! Several times each day, TokyoFashion.com's contributors are reporting back from runway shows all over town.
On Friday, October 22nd, Japanese label Somarta showcased their 2011 Spring/Summer collection on the runway at Tokyo Midtown. This show featured several new versions of the Somarta bodysuits that have become famous since Lady Gaga started wearing them. Besides the bodysuits, the S/S collection featured dresses, leggings, outwear, and other pieces in various shimmering and sparkling fabrics. The runway models were also wearing metallic heelless platform footwear that left most of the crowd in awe.
Somarta has been showing at JFW since 2007 Spring/Summer, where the label won the Newcomer's Prize At Mainichi Fashion Grand Prix. The label was founded by Bunka Fashion College graduate Tamae Hirokawa. She joined Issey Miyake Co., Ltd. shortly after graduation. Hirokawa's talent and hard work rose her quickly within the company. Within five years, she was in charge of the Issey Miyake Men and Issey Miyake lines. In 2006, she started her own design firm called Soma Designs, where she worked on projects ranging from fashion to graphic design to sound direction. The label Somarta was a part of this firm.
Hirokawa is well-known for her conceptual – as opposed to functional – approach to clothing design. She's used metal plates, pleats, and embroidery in a single piece. Her recent work includes many takes on bodysuits and models in Maori make-up. Molfic creator Takashi Mori provides the soundtrack for Somarta shows, under his Pianostalgia project.
Please click the thumbnails below to check out the full sized versions of all of the pictures for yourself.
Somarta 2011 Spring/Summer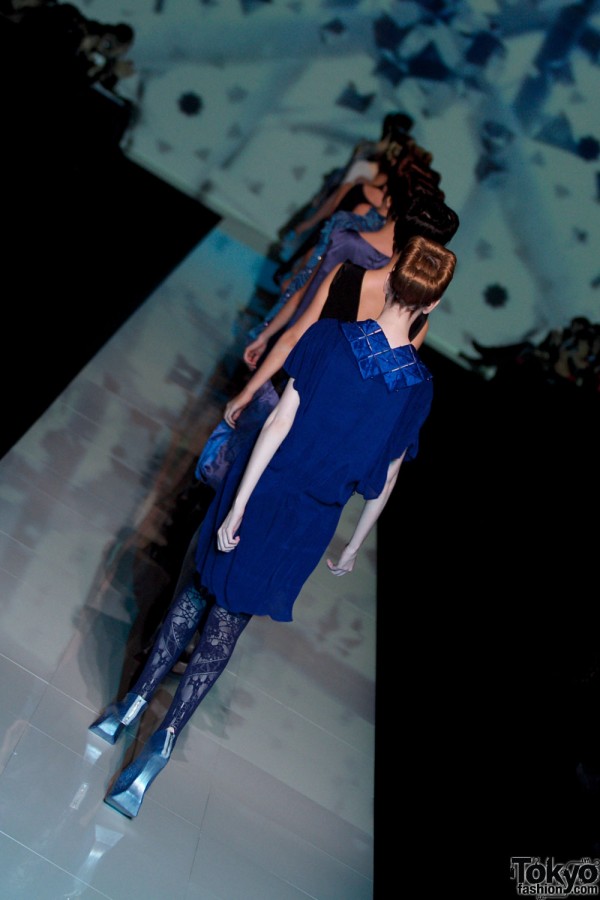 Click any of the Somarta pictures to enlarge them.
External Link: Somarta Official Website
About the photographer:
As long as he is behind his camera Will is a happy man. He has photographed everything from the slums of Bangkok to the catwalks of Tokyo. He is a contract photographer for Lonely Planet, his images and photo essays have appeared in Time Out, The Japan Times, Sportswear International and a variety of other newspapers, magazines and guidebooks around the world and his photo essays from Iraq for The Griffith Review even earned him a mention in the Australian book review of the year in 2006. In addition to his media related work, Will also shoots events, portraits, weddings and the occasional CD cover. Whatever he's working on, he always writes about his jobs and how he goes about them at Will Robb Photography.