Jeffrey Campbell Harajuku – World's First Jeffrey Campbell Boutique Opens in Tokyo
Pictures of the world's first Jeffrey Campbell boutique, located in the famous LaForet Harajuku department store in Tokyo, Japan.
Articles containing the brand: Jeffrey Campbell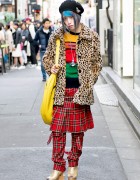 Harajuku IT professional wearing a leopard print coat with plaid punk pants, gold platform booties, and a giant emoji bag.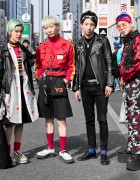 Harajuku kids wearing colorful eclectic fashion from vintage shops, Yohji Yamamoto, Mikio Sakabe, W&LT Walter Van Beirendonck, Saint Laurent, Jeffrey Campbell, and Never Mind the XU.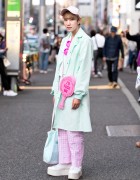 Harajuku guy in kawaii streetwear style with a long mint green coat, pink plaid pants, platform shoes and cute bags.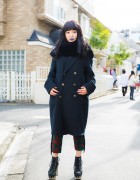 Harajuku girl in blue lipstick, double breasted trench coat, printed cropped pants, and platform booties.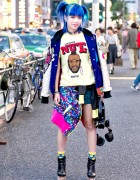 Harajuku Monster Girl with blue hair wearing a "RICH" jacket over a Mr. T tee, skirt, and platform booties with doll heads inside.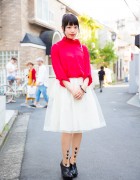 Harajuku girl in chic resale fashion with turtleneck sweater, tulle skirt, tattoo stockings and platform booties.
Harajuku girl with kimono jacket, t-shirt, pleated skirt, sneakers and faceted backpack vs. Harajuku girl in cardigan, long t-shirt, thigh-high socks and creepers.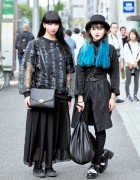 Harajuku girls in dark fashion and piercings wearing items from DVMVGE, NIIMI, Never Mind the XU, Jeffrey Campbell, and Converse.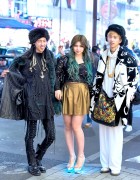 Harajuku girl with green hair wearing a lace top, gold skirt, and lighted heels with Harajuku guys in faux fur, monochrome fashion, and boots.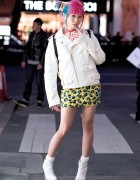 Japanese singer on the street in Harajuku with colorful hair and nail art, a Joyrich biker jacket, Galaxxxy mini skirt, and Jeffrey Campbell platform booties.