$10 Jeans by Uniqlo / G.U. A Big Hit in Japan
Last month, when Uniqlo's cheaper sister brand G.U. announced that they would begin selling jeans for 990 yen (about US$10) a pair, it got a lot of people's attention in Japan. After all, the economy in Japan is facing many of the same problems that it is in other parts of the world. People have less money to spend and even when they do have money, many Japanese are trying to save as much as possible just in case there are more problems in the future.
But the question remained, would people really be willing to wear a pair of jeans that everyone else knew cost only $10? No one doubted they were cheap, but would they sell? According to the Japan Times today, the answer to that question is a resounding "Yes".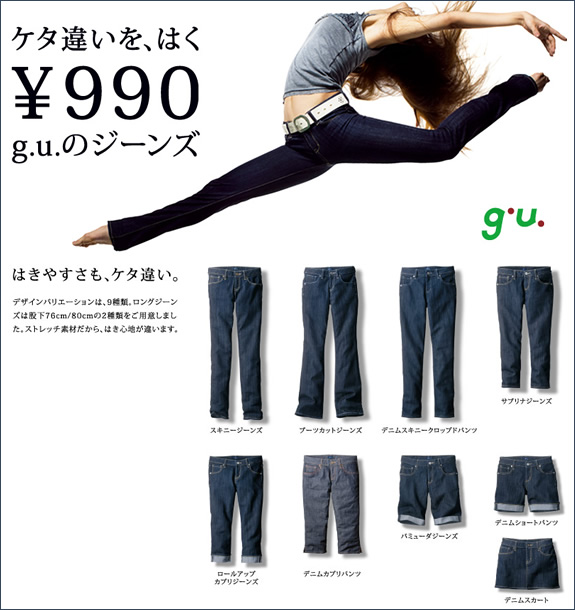 According to Fast Retailing, the parent company of both Uniqlo and G.U., the ten dollars Japanese jeans are such a big hit that they are doubling the number of jeans that they estimate they will sell in the first year — from 500,000 pairs to 1,000,000. The discount jeans are expected to account for approximately 25% of the sales at the GU shops this year.
And it's not just men's and women's jeans that they're selling at GU, they've got denim capris, shorts, and mini-skirts as well – all at shockingly low prices. Some people in the fashion industry have wondered how the company can offer such low prices and still make a profit, but Fast Retailing says they wouldn't be doing it if there wasn't money in it. Others have questioned whether they might cannibalize some of Uniqlo's denim sales with the move, but so far Uniqlo's sales have continued to rise, so it doesn't seem to be hurting them yet.
In fact, Uniqlo had always been considered the holy grail of cheap brand jeans in Japan previously at about US$40 per pair. But now, for that amount of money, you can buy four pairs of GU Jeans. Try to do the math on how many pairs of GU jeans you can buy for the price of a single piece of Diesel denim – just back your truck up to the store and start loading.
For more info and pictures, check out the official website of the brand. They've got pictures of all of the cheap jeans models and the outfits that they recommend you wear with them. All of that for just 990 yen.