2Line Harajuku Shop Closing
Sad news from Meiji Dori in Harajuku – the 2Line men's select shop is closing down at the end of this month. I was walking in the area and I noticed that their sign said in big bright letters "Closing Sale" (actually it says "Close Sale", but close enough). This is a Harajuku select shop that carries shoes and clothing from a lot of cool Japanese fashion brands. They have had a store at that location in Harajuku for as long as I can remember (not that my memory goes back more than a few years).
2Line Harajuku is a stockist for the following Japanese and international brands (and a lot more): Julius, Kris Van Assche, Bagatto, Alexander Hotto, Prima Base, Buttero, ATO (Ato Matsumoto), Officine Creative, Mark & Lona, Cassaves, Roberto Collina, Marco Tagliaferri, Rosasen, Lyle & Scott, Unity, Sobek, Claudio Orciani, Gravevault, Gender, Pierre Hardy, Cesare Paciotti, Les Guriffe Sneakers, D&G, etc. They carry shoes, bags, shirts, pants, jeans, belts, jackets, and just about everything else you can think of.
The good news, if you want to look at the bright side, is that 2Line's web shop will remain open. The even better news is that they are having a big sale to clean out the inventory of the Harajuku shop before it closes. So, if you want to get some good discounts on cool Japanese brand clothing, now might be the time to check out 2Line.
Here are a couple of photos of the shop and the sign saying it's closing at the end of November 2008:
2Line Closing Sale Sign (shop entrance is the stairs down on the right side of the photo):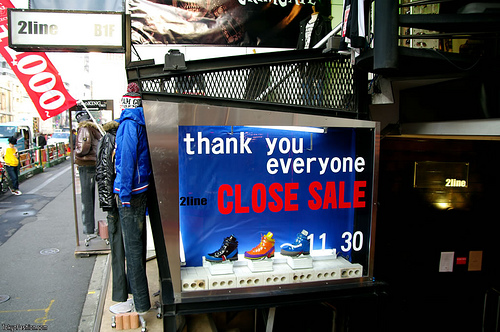 2Line sign and building photo:

Here is the important info on 2Line if you want to check it out before it's gone:
What: 2Line Harajuku
When: Have a sale until the shop closes at the end of November 2008
Where: Meiji Dori in Harajuku, very near the Uniqlo UT shop, just below Ash & Diamonds
Address: 6-10-8-B1 (basement) Jingumae, Shibuya-ku, Tokyo 150-0001
Hours: 11:00 – 20:00
Website: Official Site (Japanese)
Map: 2Line Map
Nearest Train Stations: Meiji-Jingu Mae or Harajuku Station
After 2Line is gone, we will keep an eye on their location and see what new shop appears. There has been a lot of turnover on Meiji Dori lately, so make sure you check for the latest news before heading out to check out a shop that might no longer exist!