Christopher Nemeth – Remembering the Artist, Designer, and Iconic Tokyo Tailor
Christopher Nemeth: a designer and artist remembered
In early October, Christopher Nemeth's friends, family and fans gathered in east London for a small exhibition in his honour. Tragically, the revered designer and artist had died a few weeks earlier following a long battle with cancer. He was 61 years old.
Beneath the railway arches in a tiny converted space just off the Kingsland Road, wine was served in plastic glasses, crisps were eaten from a bag, and people — from school friends who'd travelled down from Birmingham and devotees who'd come from further afield to members of his close-knit family and long-term colleagues — spoke warmly of the man who had meant, and continues to mean, so much to them.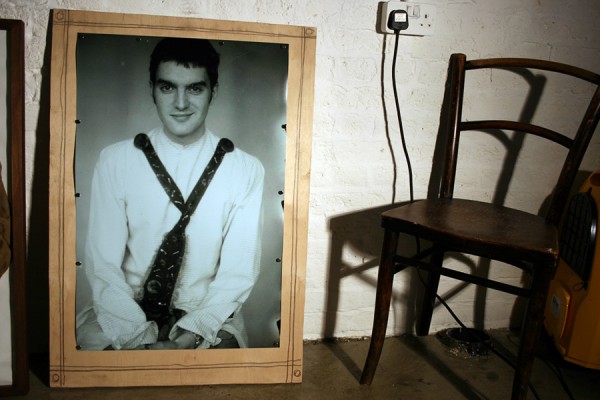 To the uninitiated, the scope and size of the event would've come as quite a surprise. There was no fanfare or bravado of the kind that normally marks the passing of a great man, and the carefully edited exhibition was put together with love, respect, and a certain degree of sentimentality rather than hung for lighting and effect. If, however, you've had the pleasure of meeting Nemeth or have been exposed to his aesthetic, then you'd know that everything was just as it needed to be.
The retrospective was befitting in both its location and range. Held at Primitive (a design and art space run by the designer's family and friends), it was very close to where Nemeth opened his first shop — The House of Beauty and Culture — with like-minded contemporaries Judy Blame, the stylist and accessories designer, and the late John Moore, the shoe designer, in the mid 1980s.
What was on display under the arches was a poignant collection that purposefully represented Nemeth and his work. Framed drawings — both large and small – lined the walls. Pencil sunk into thick, grainy paper, erased lines still visible. The illustrations were of sewing needles and thread, exaggerated twine, and gigantic, gnarled hands caught in the process of work.
'The drawings he did over the last few months before he died,' says Nemeth's daughter Lui. 'He wanted to have an exhibition in this space. The smaller drawings were his drafts for these larger works. He wanted them all to be big, but he didn't finish.'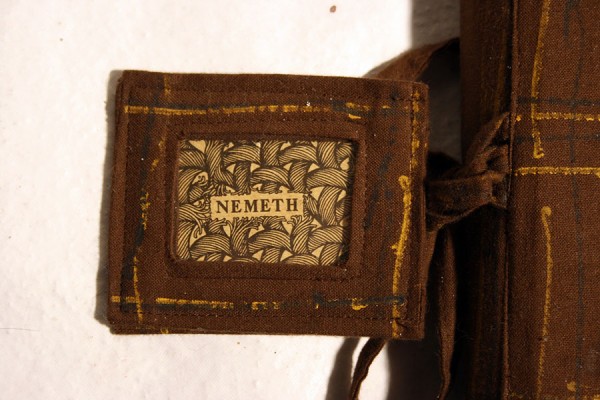 Never one to stray from his aesthetic, these pieces are quintessentially Nemeth. 'He always draws people making things and the process of making clothes,' says Lui. 'He wanted to get rid of the details. He wanted to make everything really simple and free.'
It's this focus that gives Nemeth's fans comfort and keeps them coming back for more. Craftsman Teppei Sugaya, who travelled from Venice for the exhibition and to pay his respects, put this feeling into his own words. 'Nemeth's clothes are his art,' he says. 'It's his statement, in a way, and it never changed. It makes people relieved I think. It's comforting. So many designer and brands are influenced by him.'
Other examples on show at the exhibition had been kept from when Nemeth first made his first tentative steps onto the fashion scene in the early 80s. A portrait of Christopher as a young man peered out from a corner. The image was been taken by legendary photographer Mark Lebon — the man who, following a chance meeting in the early 1980s, would change Nemeth's life.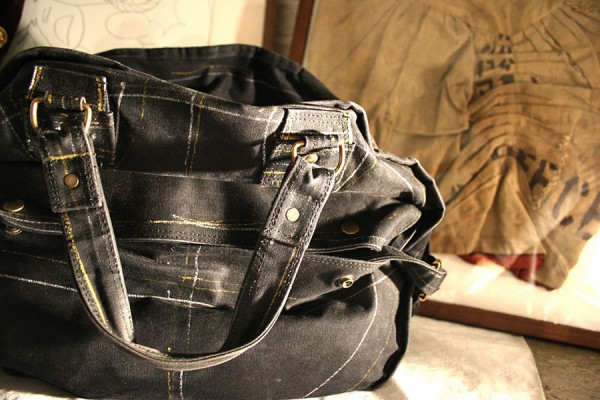 A paint-splattered, canvas bag accented with hand drawn lines along the seams sat heavily on the floor. 'He made it,' says Lui. 'When he couldn't find something he needed, he'd always make whatever it was himself. The slippers too,' she continued, pointing at a pair of shoes on the floor. The stitching looked crude, the material appeared old, and the shoelaces were reclaimed pieces of string, but these elements combined had been worked into something unique and wearable — a unique Nemeth design that he created from used material long before upcycling became a buzzword and the industry it is today.
Nemeth's clothes are mostly seen as androgynous, though he did make a few key pieces for women.h His first skirt, constructed out of disused postal bags, was proudly framed and displayed among the other items. Several pairs of three-quarter length trousers were also in attendance – hung from hooks, draped over chairs, or laid flat. The eclectic mix was instantly recognisable as Nemeth's work.
Although different colours and textures, the material was distressed, the trouser crutches lowered or were distorted in some way, and the buttons were mismatched. Some carried labels, others didn't. Smaller accouterments, including brightly stitched ties, necklaces made from found string and safety pins, and comical badges, all added necessary depth to the space.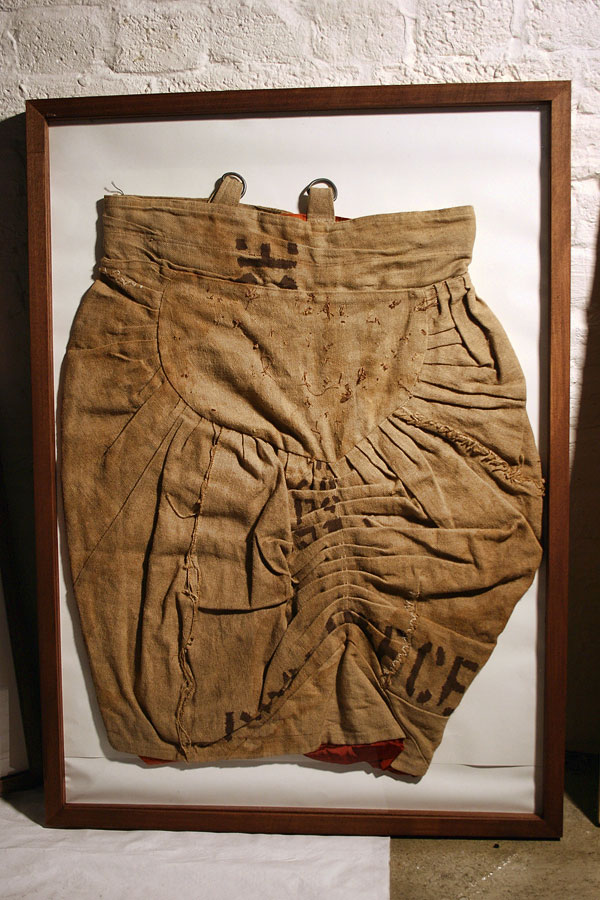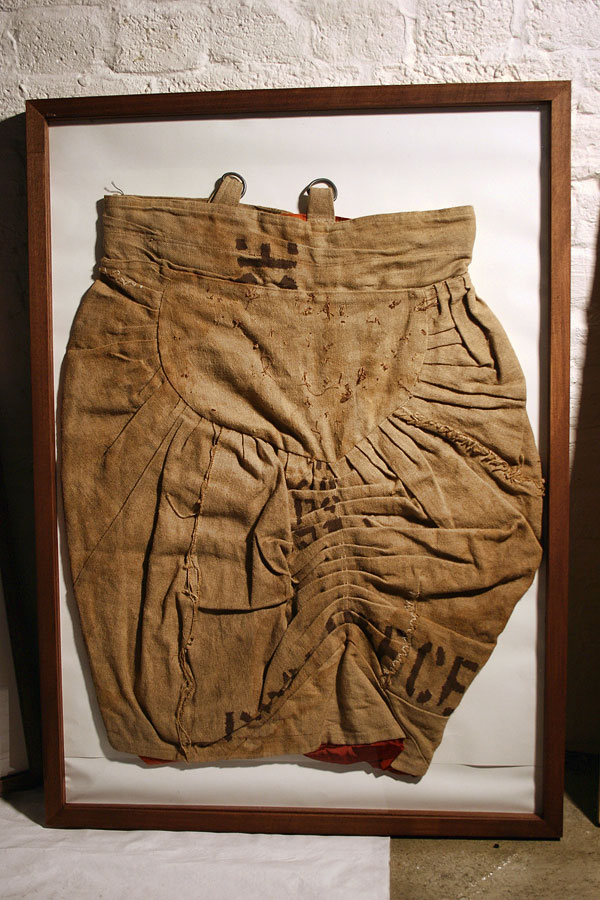 Perhaps the most important article on display was an old-ish looking red canvas jacket. 'This is a really early piece,' says Lui. 'You can see how he started out. Everything is fitted to him. He molded paper to his body, then cut out the material and finally painted it. He never studied fashion design. He wanted to be a painter, but nobody wanted to buy his work. So he started to cut up his canvases. He didn't have any money, so he began to make his own clothes, using charity shop jackets.'
Nemeth originally moved from his hometown of Birmingham to study at Camberwell Art College in London's south. After graduation, his paintings didn't sell as well as he had hoped. So poor was the designer that he resorted to making clothes out of material he found on the street and pieces he found in charity shops. According to an I-D interview with Nemeth in 2009, the designer's first foray into fashion was making himself a new pair of trousers.
'I had this pair of trousers that I'd picked up in a jumble sale, which I really liked the shape of, but after wearing them endlessly they had completely worn out,' Nemeth told I-D. 'So, I took them to bits, laid them flat, and made my own new version of them. That was how I made my first pair of trousers – as a way of getting back those trousers that I loved but had worn out. People would say to me, 'Where did you get those trousers?' and gradually I began making clothes and selling a few things to friends. I put some of them into a stall in Kensington Market, and to be honest I think the person who owned the stall didn't really expect to sell anything! Everything was hand-sewn and I was using found materials – like old postal sacks, made of linen that I'd find laying around on the streets. I'd initially thought they'd be good to use as a canvas, to paint on, but ended up making them into clothes.' It was the reworking of these rags which would lead to Nemeth's creative riches and personal brand of understated success.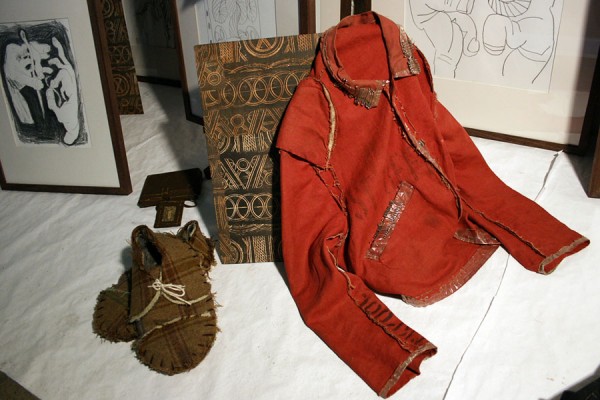 It was while Nemeth was wearing one of these early outfits that he caught the eye of Mark Lebon.
'I met Christopher in Convent Garden. Swatch Watch was launching its first watch, and I was covering the event for Lynne Franks [a well known public relations guru],' Lebon tells a few weeks after the exhibition. 'I spotted him and thought 'wow, that is just amazing. I asked him if he sold his clothes anywhere and he said that a rack of clothes at Kensington Market. And I sought them out and I just had to have them all.' It was 1985 and the red jacket was one of the first pieces Lebon bought. He was instantly hooked.
Not long after that first chance encounter, Lebon and Nemeth began working together. 'I asked him if he wanted me to help him out,' said Lebon. 'I became his agent at that point.' In actual fact, Mark had recognised a marked shift against the world of more mainstream fashion and though Nemeth's clothes were the perfect antidotes
'For me, what was going on at the time in the 80s was absolutely dire,' Lebon elaborates. 'There was a movement among some friends of mine who were making furniture who were called Creative Salvage. There were quite a few people in furniture who dealt with objet trouvé and deconstructed or reconstructed furniture. What Chris did was hold that post-modernist ethic in his clothes. Compared with what else was going on the time — padded shoulders and lycra. It was horrible. So, it was amazing that I could find something that I could relate to. It was new modern and just like a wonderful medicine to the other shit that was going on at the time.'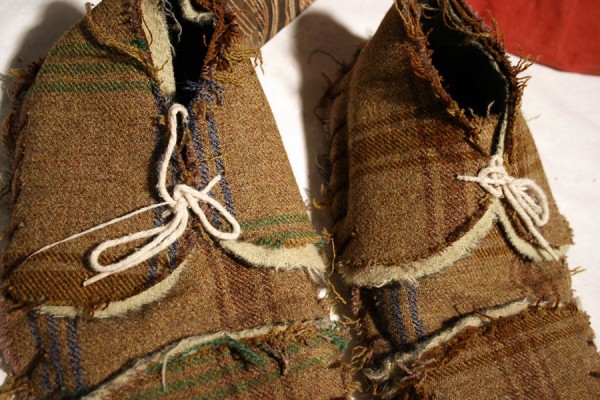 So, it came as quite a surprise to Lebon and the other members of the collective when Nemeth decided to move to Japan. At the time he had just started to gain notoriety in the UK, but fate had other plans for him. He met Keiko, his wife-to-be, at a show by designer John Galliano (Keiko was the first person to sell his clothes in Japan). Nemeth was there with Blame and Lebon dressed in Nemeth's clothes. Keiko liked the look so much that she bought some of Nemeth's pieces for her shop, and Nemeth liked Keiko so much that he decided to move to the other side of the world to be with her.
Nemeth continued his work in Japan and gradually gained a cult following, though this meant that he did have to sacrifice to some degree the reputation he'd built in the UK, a reality that's not lost on Lebon. 'It's quite a big issue for me,' he says. 'The fact that he was relatively unknown. Obviously the cognoscenti in England know about him, but not the mainstream.' These days his clothes are stocked in a small concession in London's Dover Street Market, a store that was conceived and is owned by Rei Kawakubo, the Japanese founder of Commes des Garcons and a woman who was reputedly influenced by Nemeth's deconstructed style. It's in Japan, however, were Nemeth's popularity has its true roots.
In Tokyo, Nemeth's store is also tucked away in the über-fashionable Harajuku district. Although often criticised for not joining the ranks of the more commercial designers (Nemeth didn't stage fashion shows or produce lines according to the seasons), what resulted was clothing, according to Lebon, that is 'very esoteric and powerful.' Japan certainly had a profound impact on the designer. In an interview with blogger The Selby in 2009, when asked how living in Japan has changed him, Nemeth replied: 'I hope living in Japan has changed me for the better. I think Japan offers a news way of seeing just about everything.'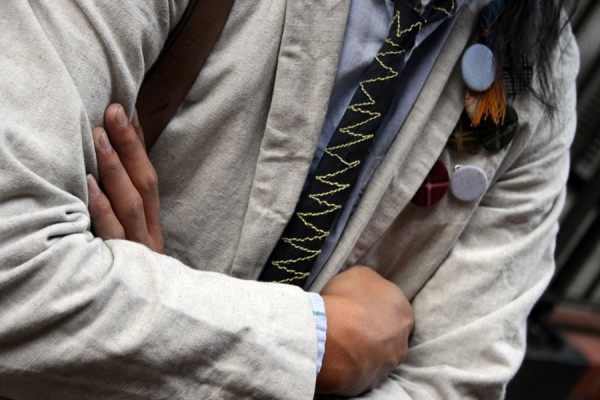 And, while Nemeth was undoubtedly affected by his adopted homeland, he also made his mark there too, as Teppei Sugaya remembers. 'I first discovered Christopher Nemeth in 1994 when I was 14 years old. I'm from the countryside originally. I was longing to go to Tokyo to go shopping. I finally went to the city and popped into his store and I was completely blown away. I couldn't say anything. It was fantastic. I'd never seen a store like that. Christopher Nemeth was actually there when I went in. He was working in the changing room by himself. Half of the store was covered with dust. He was using his own tools to make the fitting rooms. I didn't know who he was and there was this super tall British guy making changing rooms. With the strange clothes. Pointy shoes. Three-quarter trousers and strange aprons. Who the fuck is this guy? Obviously, he was the one.'
And for Sugaya — a graduate of Tokyo's renowned Bunka Fashion College — Nemeth is his one and only inspiration. It was the designer's approach to his work that got him hooked. 'My interests are rooted in heartwarming, crafty things, and I think, when I first went to his store, that's what I spotted,' Sugaya tells us. 'I still think that I have exactly the same perspective towards materials. The effort with the garment. It's not just cut and stitch and done. There are layers of depth on a garment. During my first visit I bought a bag and I asked him to sign it. He used a special fabric pen — the type that they use in factories. He uses the markers to draw lines on the garments. The bag I bought was round and made of a heavy canvas. I asked him write something on it. He took a yellow and black marker and wrote his name. I still have it. I sometimes use it still.'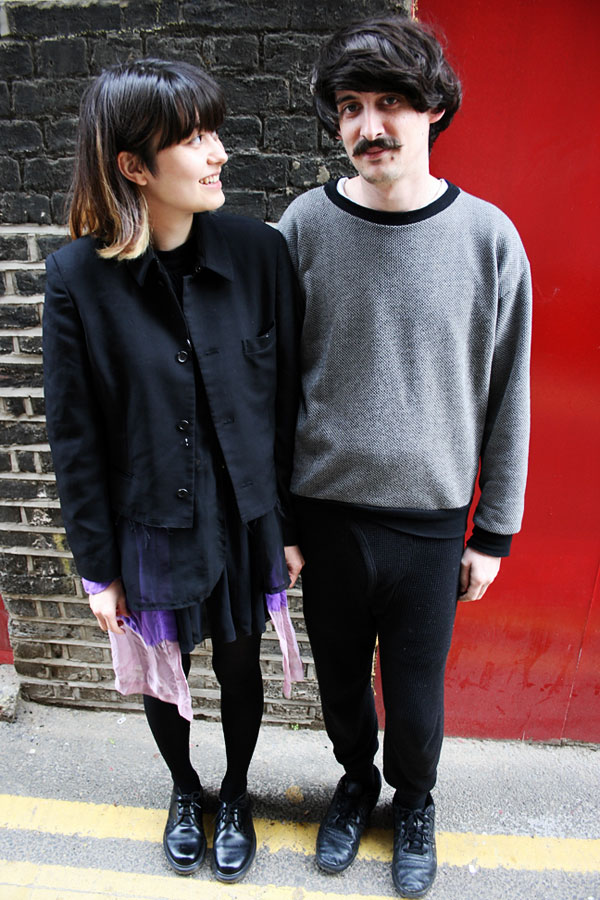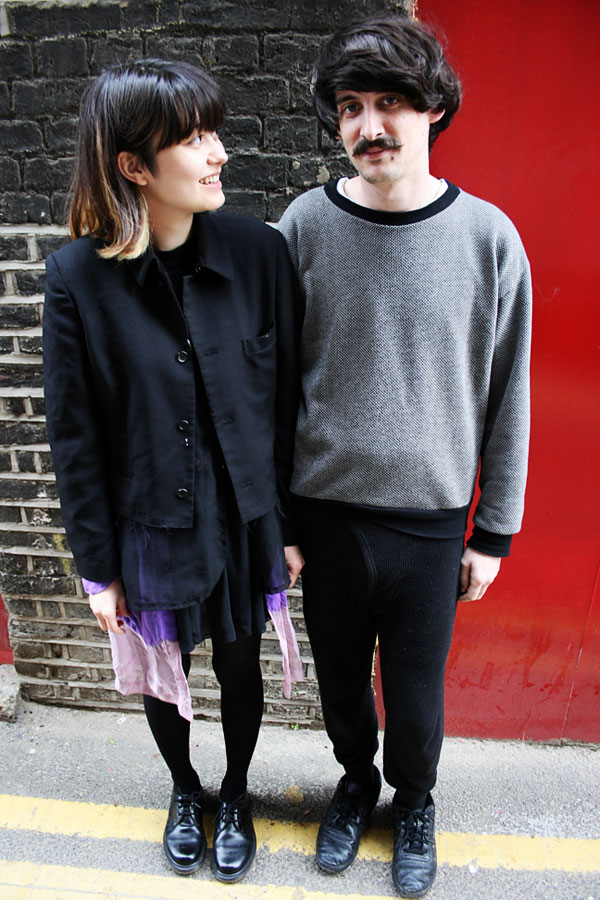 Although it's tragic to acknowledge that Nemeth will no longer around to sign his pieces or contribute to the label in his own inimitable style, it's heartening to know that his clothing and designs will live on. According to Lui, Nemeth has left behind an archive of thousands of pieces yet to be released. Keiko will continued to run the business and the shop will remain open. And Lui, her partner Andrew Green and her younger sister Riyo are aiming to turn Primitive into a space that nurtures young designers and artists in London. For Nemeth, this continuation of his life's work, is more than anyone could hope for, and reflects just the type of man he was.
*
Article by Kate McAuley for TokyoFashion.com. Photos by Kate McAuley and/or courtesy of the Nemeth family.
About the author:
Kate McAuley is an Australian-born, London-based writer, photographer and blogger with a penchant for fashion, beauty, travel and literature.