Converse Japan x ZOF x Jimbow x Loveless Aoyama
Loveless Aoyama, one of the coolest fashion boutiques in Tokyo, recently announced the release of some super limited edition Converse All Stars in collaboration with the Japanese brand ZOF. The new Converse x ZOF sneakers are exclusively available at Loveless. In fact, the tongue tag actually says just that, "Loveless Exclusive".
Each pair of these new Chucks is hand painted by the artist Jimbow. Jimbow is well known in the Japanese fashion scene for his illustration work for Daisuke Obana at N.Hoolywood as well as other Japanese brands including KIKS TYO, Beams Japan, Mob Styles, Artifuct, etc.
Because these sneakers are hand painted by Jimbow, every pair is original. But, even though each shoe is illustrated by hand, there is a common visual theme running through the models. They come in two different designs – one is a red shoe with a girl's face painted on the outsides and the other is an orange model with a creature (dog?) on the outsides.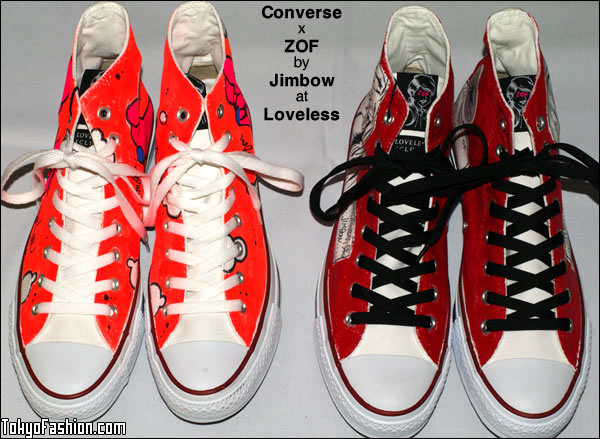 TokyoFashion.com is proud to present some exclusive in depth photos of these new Loveless x ZOF by Jimbow collaboration sneakers. Remember that every pair is different, so while these pictures are of actual shoes in the collection, each sneaker in the shop actually looks slightly different.
Here are some shots of the red model – click the image for a larger photo: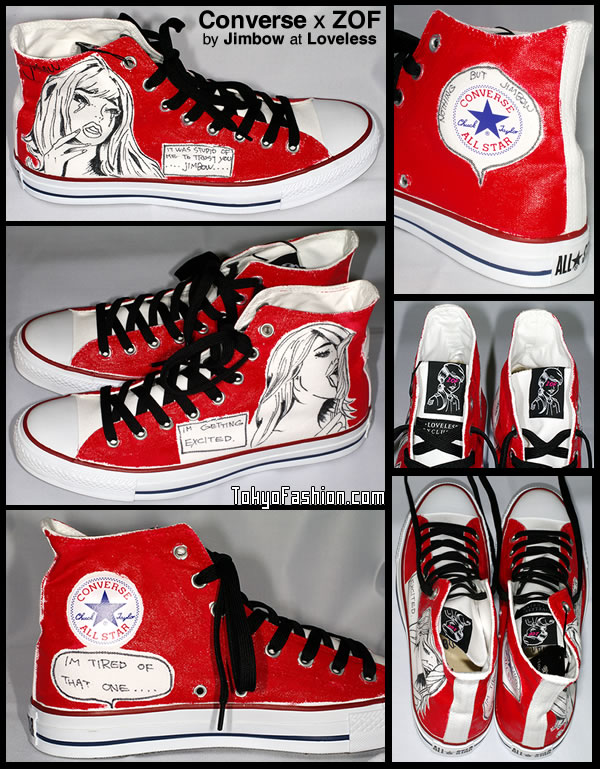 A closeup of one of the painting on one side of the red sneaker, along with Jimbow's signature: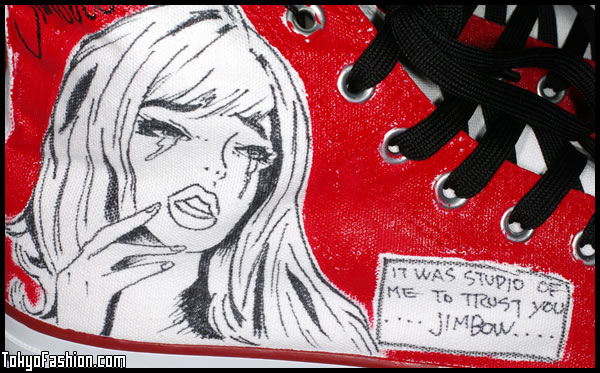 Various views of the orange Jimbow x ZOF x Loveless x Converse sneakers – click for larger size: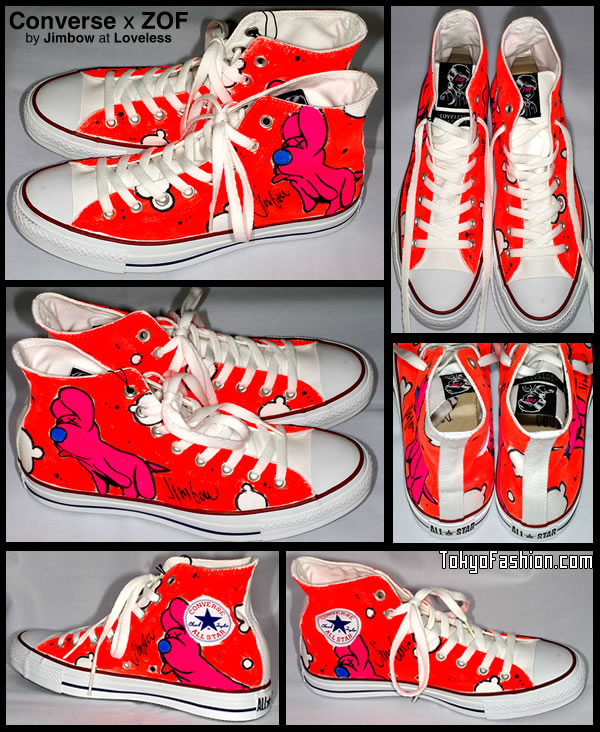 A closeup of the artwork on the side of one of the orange sneakers and, once again, Jimbow's signature: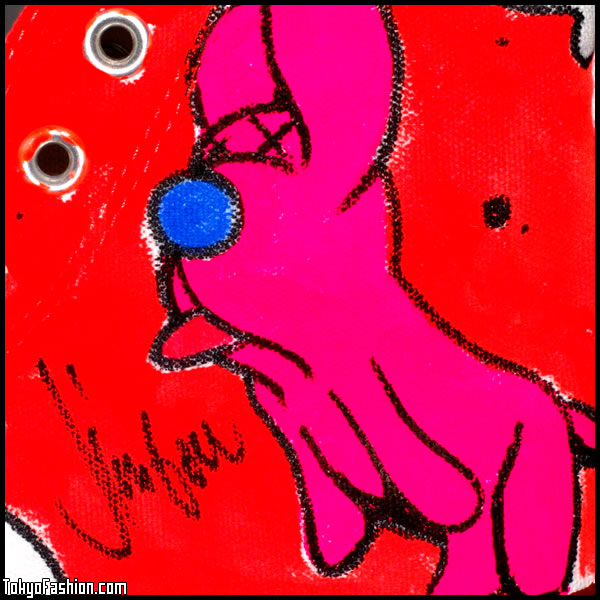 These sneakers are available only in Japanese sizes 26, 27, and 28, and each pair comes with both black and white laces so you can decide how you want to wear them. The quantities are extremely limited, obviously, as the artist had to hand paint every sneaker in the collection. The price for the sneakers is not too bad considering the work that went into this project – the orange shoes are 18,000 yen (about US$180) and the red ones are 22,000 yen (about US$220).
These sneakers are guaranteed to sell out fast, so best to act quickly if you're thinking about picking up a pair. Besides that, Loveless Aoyama is an amazing shop that carries too many cool brands to mention, so it's totally worth making the trip there anytime you can think of an excuse. Just make sure to fill up your wallet first.
External Links: