Glam Honey Harajuku – New Shop
Glam Honey is the name of a cute new shop that recently (09/2008) opened in the Harajuku area of Tokyo, near the corner of Takeshita Dori and Meiji Dori, on the opposite side of the street from the KDDI Designing Studio. The design of the shop is quite crazy-cute Harajuku-style with pink hearts, pink walls, pink stripes, and more pink. It's a small shop, but very attention grabbing even for Harajuku (and getting attention in Harajuku takes a lot of work!)
Rather than try to explain just how ridiculously cute the shop is (did I mention that the checkout counter is covered in pink fur?), check out this photo: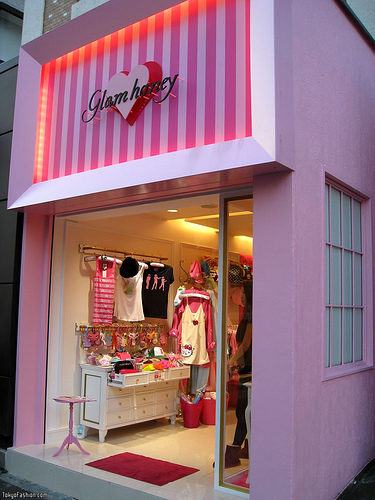 Glam Honey is a select shop of cute and sexy clothing and accessories for Japanese girls. Their brand motto is "Love and Beauty Store". Inside the shop, they have boots, purses, bags, shirts, girls underwear, hats, dresses, sweaters, jewelry, and all kinds of cute (often pink) accessories. Some of the items were Hello Kitty and some were Barbie Brand clothing.
As far as brands, Glam Honey seems to carry some fashion brands that are popular in Los Angeles, California – maybe the buyer loves LA style? Some of the brands they carry include: Victoria's Secret lingerie and underwear, Forever 21 clothing, Kitson LA hipster goods, items by trendy Russian designer Kira Plastinina, Aerie brand underwear and bras, Lounge Fly, Pika Pika jewelry, and plenty of others.
If you want to check it out for yourself, here is all of the important info:
What: Glam Honey Harajuku
Where: Harajuku – corner of Meiji Dori and Takeshita Dori
Address: 1-8-6 Jingumae, Shibuya-ku, Tokyo, Japan
Hours: Not sure.
Phone: 03-5475-8282
Website: Official Site (Japanese)
Map: Shop Map
I hope this shop sticks around for a while because it has that cool funky fashion vibe that makes Harajuku the cool place it is. There are a lot of major clone-like brand stores opening in Harajuku lately, but what makes the area awesome is funky little stores like Glam Honey.