Gold Gun Belt Buckle Guy in Shibuya
This friendly blonde Shibuya guy was photographed in front of Ichi Maru Kyu (aka Shibuya 109) in the late summer of 2009. His fashion is quite extraordinary, even by Shibuya standards. He's wearing sunglasses, a gray double layered vest over a white sparkly button up shirt, white pants with red speckles, and pointy gold boots. Most exceptional, though, is his belt and belt buckle. The belt is black leather with jewels on it and gold jeweled crowns. The belt buckle is a large gold jeweled gun. I wish we would have asked about the belt's brand name!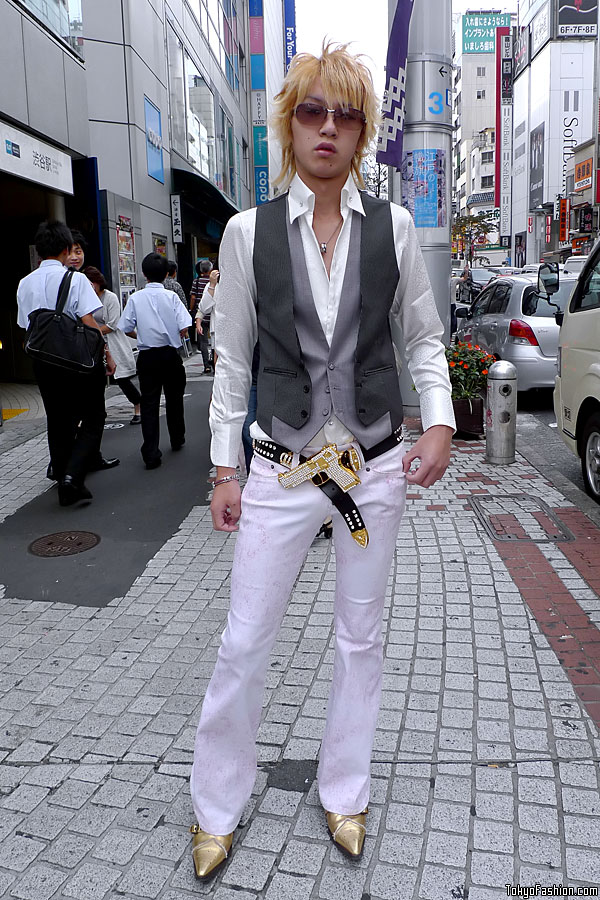 Click the above photo to see this Shibuya guy in high resolution!
Update: Thanks to Tokyo_Katie for pointing out that the belt buckle this guy is wearing is by Rob Diamond. Check the comments section for a direct link.