Loveless Aoyama Christmas Gremlin 2008
Walking in Aoyama this week, I noticed that Loveless Aoyama has their Christmas 2008 window display in place. To be brutally honest, it's not that exciting of a window display by Loveless standards. I mean, Loveless does some of the coolest, most crazy fashion window displays in Tokyo, so they have to do a lot to impress. This display is mostly just Christmas trees and wreaths and stockings and a few Reindeer – the usual x-mas decorations.
But, kicking back just in the middle of the Loveless X-mas window is a little Santa Clause figure. Next to Santa is a a cute little stuffed Loveless Gremlin. The Loveless Christmas Gremlin is one the real Gremlins, like from the old American movie – but wearing a Loveless t-shirt. Pretty cute. Or, as the girls say here in Japan…kawaiiiiiiiiii! In fact, when we stopped to take some photos for this very news update, several Japanese girls were taking pictures with their mobile phones. So, even though I wasn't blown away by the window, it was obviously hitting a certain target demographic.
Here is a wide shot of the full window: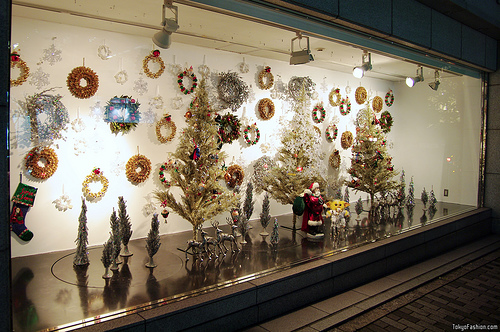 And a closeup of the Loveless Gremlin next to Santa himself:

Bigger versions of the pictures on our Flickr page if you need to see the cute little Gremlin in full screen mode! More Christmas 2008 Tokyo Fashion updates and pics coming very soon.