Mastermind Japan x Converse All Stars
Hypebeast has tipped us off to some new collaboration sneakers – this time the fashion collaboration teams up sneaker maker Converse with Japanese super-hipster (and super expensive) brand Mastermind Japan. The new shoes are a Mastermind re-imagining of the classic Converse All Star. Here are a few pictures of the sneakers so you can see for yourself: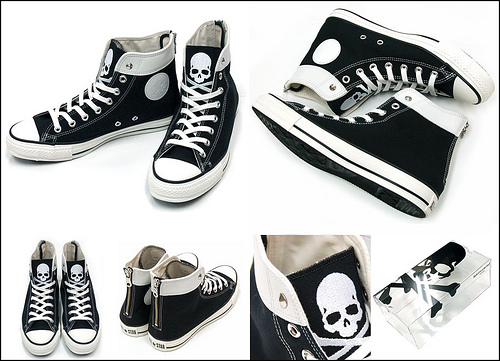 These shoes are, like most Mastermind Japan items, not cheap. If you want to pick up a pair, expect to spend about US$350 – and that's if you can get them from the source. If you have to go to Yahoo Japan Auctions or Rakuten, expect to pay a lot more.
As far as the modifications that Mastermind has done to the shoe – they've taken the typical Chuck Taylor high top and added a zipper at the back of the shoe, a white stripe and a couple of studs at the top of the shoe, and of course the Mastermind skull graphic has been added to the tongue. For that much cash, you've got to see the skull, right? Ok.
For right now, the only place that has these for sure is Bobo's online shop, but I wouldn't be surpised to find out that Beams Shibuya is stocking them. Beams Shibuya has a lot of Mastermind stuff in a little area upstairs at the men's shop, and often gets the limited edition items. If I'm in the area, I'll check it out and try to confirm whether or not they've got these. In the meantime, you better hit Bobo's quickly if you want to get these in your size. There is no doubt they'll sell out quickly. In fact, when I last checked, I think they only had a couple of sizes left.
External Links: