Milk Harajuku Shop Window Nov. 2008
This update is just one of our quick pictures of a Tokyo fashion shop window – in this case the window of the Milk shop in Harajuku. We do these Tokyo Fashion shop window updates to keep you in the loop on what various stores in Tokyo are promoting each month.
Milk Harajuku Window – Late November 2008: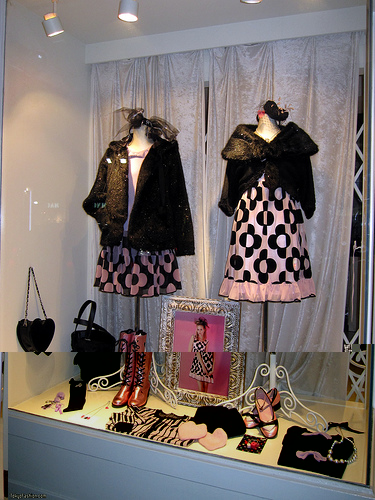 This Milk window shows some of the brand's current collection, including pink and black flower print dresses, a black shawl and black Milk jacket, shiny pink boots, pink ballet flats with bows, a black heart shaped hand bag, and various jewelry and accessories.
Milk is one of the original Japanese gothic lolita labels, and one of the early Harajuku fashion brands, dating back to the 1970's. Today, Milk is still very cute, with lots of hearts and pink colors, but they are not just a lolita label anymore. Their clothing appeals to many lolitas, and some hime gyaru, but a lot of their recent items are just cute and would appeal to a wide variety of cute-loving Harajuku girls.
Here is the important info in case you want to check out the shop:
What: Milk Harajuku Shop
Where: Meiji Dori near the intersection of Omotesando Dori
Address: 6-29-3 Jingumae, Shibuya-ku, Tokyo, Japan
Hours: 12pm – 8pm
Phone: 03-5467-6555
Nearest Train Station: Meiji Jingumae Station
Map: Milk Harajuku Map
Website 1: Official Site (Japanese)
Website 2: Milk Fashion Brand Info (English)
More Tokyo shop window pictures soon.