Milk Tote Bag in Zipper Fashion Magazine Feb 2009
Another Japanese fashion magazine and furoku update today. This time, it's the February 2009 issue of Zipper magazine and the freebie is a colorful tote bag by the famous Japanese lolita brand Milk.
Milk was one of the original Harajuku lolita brands, though they have since moved on to carrying a wider variety of clothing and accessories than just those that appeal to lolitas.
As far as the new issue of Zipper, it features Anna Tsuchiya on the cover. Inside there is a photo spread with Anna doing her punk fashion thing, as well as features on a collaboration between the Milk brand and model / talento Suzanne, lots of street snaps, cooking tips, and various other fashion related articles.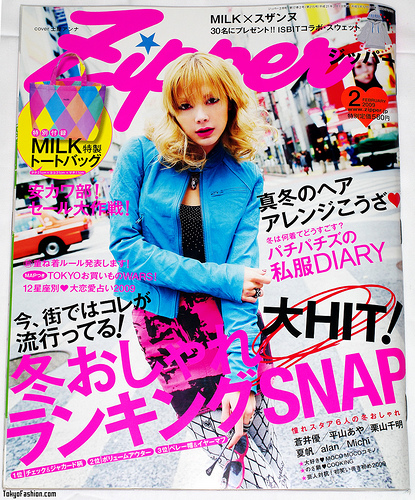 One of the cute features inside this issue of the magazine is a photo shoot about the various types of Japanese "Moco Moco" clothing. In Japanese, moco moco means kind of "fuzzy" or "furry" or "soft" type of clothing and other items.
Besides all of the articles and ads, there is a free Milk brand tote bag inside of this issue of Zipper. The bag is very cute and colorful and of decent size (bigger than the Cher eco bag we posted about recently).
Here is the packaging inside of the magazine for the Milk handbag:

And here is a picture of the bag itself, with the magazine inside of it so you can check the size…

The actual size of the free bag, as shown in the magazine is is 21 cm x 31 cm x 11 cm. As usual with cool Japanese fashion magazines with free gifts inside, you should pick this up soon if you want to get a copy before they're sold out.
More Japanese fashion magazine news soon.
External Links: