MilkFed x Care Bears Japanese Fashion
Harajuku loves cute. You can't walk ten feet down Takeshita without hearing shouts of "kawaii!!!" over and over again. Milkfed is not a Takeshita brand, but they are aiming right at the "kawaii" Japanese girls with their newest fashion collaboration. It doesn't get much cuter than…the Care Bears!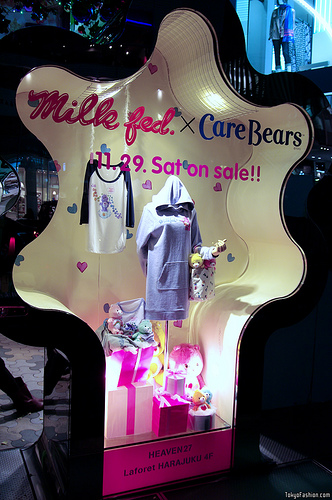 The Milkfed x Care Bears collaboration went on sale at Heaven27 LaForet and Milkfed's Heaven27 Harajuku shop last weekend – November 29, 2008. There are three main items in the collaboration – all of them limited edition and all of them, from what we could tell, selling quickly. The items are: a small tote bag covered in Milkfed x Care Bears print, a t-shirt with a Milkfed x Care Bears image that says "Sweeter with Milkfed", and a hoodie sweater dress that has a Care Bear painting the Milkfed logo. Check out the pictures of these three items:
Milkfed Care Bears t-shirt and sweater dress:

Milkfed Care Bears Japanese tote bag:

The prices are about US$40 for the CareBears tote bags, about US$90 for the t-shirt, and about US$150 for the sweater dress. All items are expected to sell out pretty quickly, so you better hurry if you want any of these.
The items are available at the Milkfed shop in LaForet Harajuku (the shop is called Heaven27) and at the main Milkfed / Heaven27 shop on Cat Street (also in Harajuku). If you are a Care Bears fan, the Cat Street shop might be worth a visit because they have a huge pink Care Bear painted on the side of the building.
Besides the main collaboration items, the Milkfed shops are also selling various Care Bears accessories, jewelry, toys, and other items. The items I saw didn't appear to be existing Care Bear items that the shop just thought were cute – not co-branded with Milkfed.
What: Care Bears x Milkfed
Where: Milkfed at Heaven27 Cat Street Store in Harajuku (also at the LaForet shop)
Address: 2nd Floor, 4-25-28 Jingumae, Shibuya-ku, Tokyo, Japan
Phone: 03-5413-7070
Hours: 11:00 – 20:00
Map: Milkfed Harajuku Map
Website: Official Site (Japanese)
English Website: Milkfed clothing info (Non-Official)
Bigger versions of all of these pictures are available on the Tokyo Fashion Flickr page.