M.Y.O.B NYC x DAMAGE Popup Shop at LaForet Harajuku – May 29th to June 11th
Two of the hottest streetwear brands in Harajuku over the last year have been M.Y.O.B NYC and DAMAGE (DVMVGE). The two independent brands – one from Japan and one from Taiwan – will join forces and host a limited time popup shop at LaForet Harajuku from May 29 through June 11, 2015.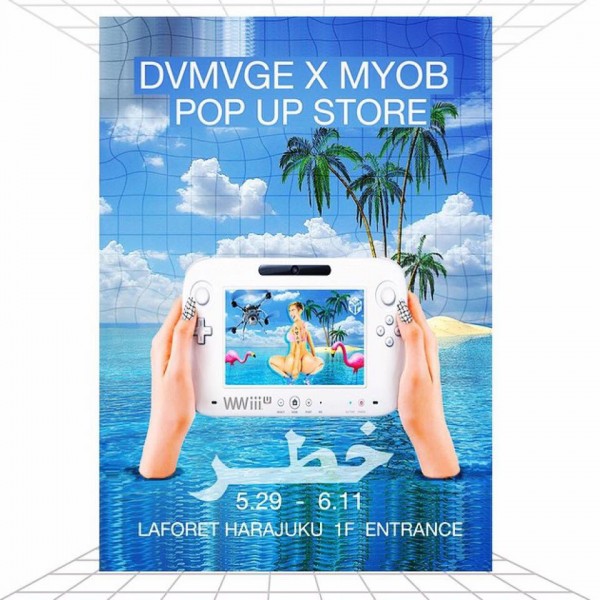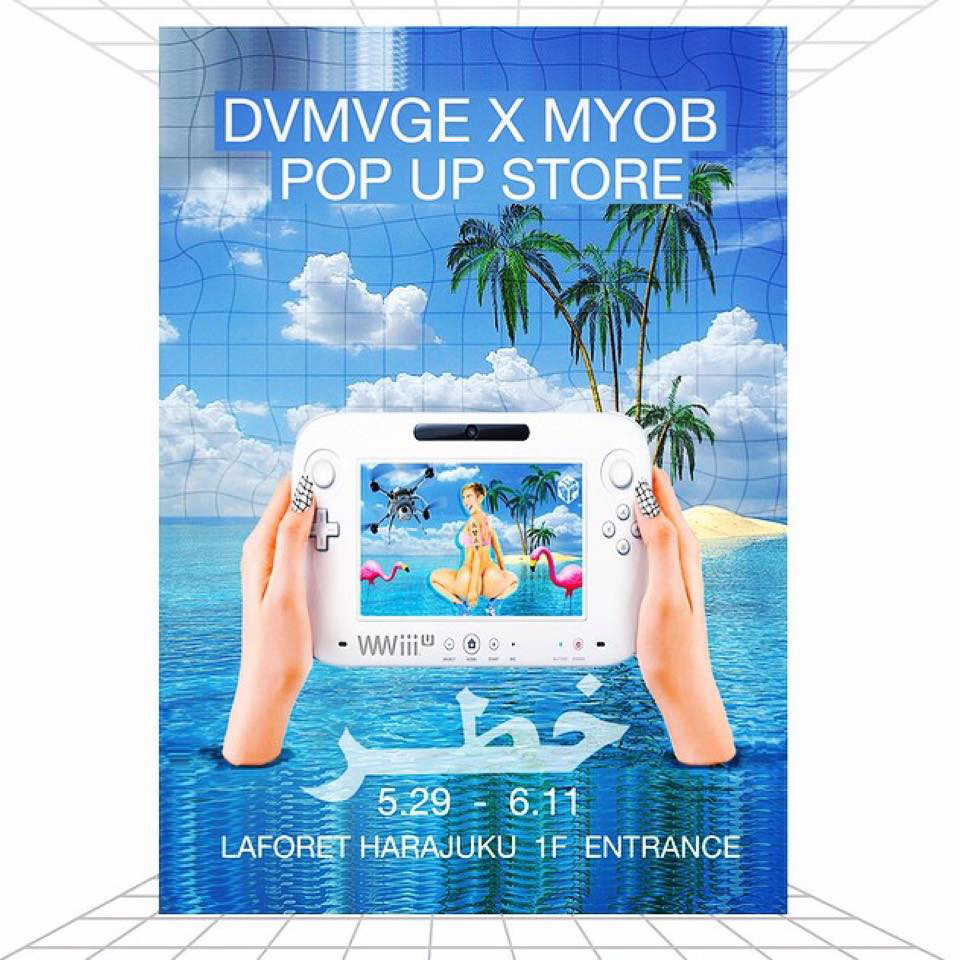 M.Y.O.B NYC is a streetwear brand produced by two Japanese women – Tanimi and Comi. Taiwan's DAMAGE is produced by Joe Chu (PetshopsGirl) and street artist Dbsk1, both of AMPM Studio. M.Y.O.B NYC and DAMAGE have built reputations for producing original pieces in limited quantities, making them highly sought after in the Tokyo street fashion scene.
M.Y.O.B NYC x DAMAGE Popup Shop will be located at the entrance of Harajuku's most famous fashion department store, LaForet. The popup shop will feature items from each brand's latest collections, as well as limited collaboration between the two brands. The opening party will be held on May 29th from 9:30pm-11:00pm at LaForet Harajuku. Entrance to the party is free.

Here is information on the popup shop, directly from M.Y.O.B NYC and DAMAGE (translated by TokyoFashion.com):
M.Y.O.B NYC
At this popup shop, M.Y.O.B NYC will debut their 2015 Spring/Summer "BIO GELMEDIUM" clothing line (which uses gels and highlights), along with new accessories and small items which use new materials. By using bio acrylic, the textures of the new line give the feeling of flowing water. We will also begin sales of our collaboration line with DAMAGE.
DAMAGE
The popup shop is the first location for the presentation and sales of the 2015 Spring/Summer Collection. With even more energy, we are proudly introducing clothes that have a dark humor that cannot be copied.
The concept of DAMAGE
Basing itself on the modern (avant-garde) lifestyle of the 21st century and beyond, this is a brand which mixes pop culture and dark humor. Damage brings out chic, avant-garde, and exotic items based around combinations of practical fashion wear.
DAMAGE Designers
Dbsk1 Active in the graffiti/story art scene for over 20 years, he has received high praise worldwide for his street sensibility, expressed through his graphic activities. Dbsk1 has also worked as a video engineer in a video game company.
PetshopsGirl Joe
With knowledge of the world of fashion and accessory design, she first started the accessory boutique "PetShopsGirl." The PetShopsGirl brand became famous not only in Asia, but has gained a following around the world.
Opening Party Info
On the first open day, May 29th (Fri.), from 9:30 PM to 11 PM, we will host an opening party at the entrance of the 1st floor of La Foret Harajuku to express our gratefulness for the opening of the POP-UP STORE! As DJs, we will welcome the owners of San Francisco's Eros Mortis, a select shop which handles DAMAGE, M.Y.O.B NYC, Wolfbitch and Morgan. Not only is the event free entry, allowing anyone who wishes it to come, we also have some free drinks ready for everyone. We are all eagerly waiting to see you all!
For more information, follow M.Y.O.B NYC and DAMAGE on Instagram.
Click on any photo to enlarge it.