New Graniph T-Shirts Shop Coming to Shibuya
Happy 2009! We are slowly recovering from the New Years holidays here in Tokyo. Sorry for the slow updates for the last week or so. We've got a bunch of news and pictures related to Tokyo Fashion to share with you and we'll try to get that stuff posted starting today.
For now, we just wanted to let you know that a new Graniph T-shirt shop is coming to Shibuya, right down the street from the UT (Uniqlo T-shirts) shop on Meiji Dori. Here is a picture of the signs they put up letting us know about the upcoming shop:
Graniph – Coming Soon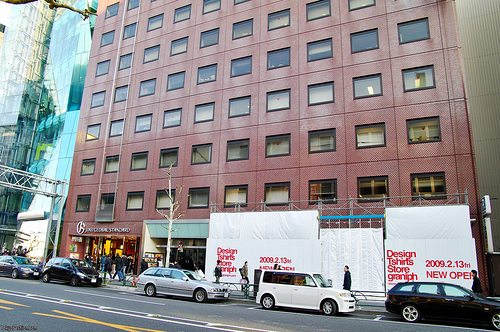 Graniph and UT basically do the same business – limited edition graphic t-shirts designed by cool Japanese and international artists and designers. So, the fact that Graniph is going to open a shop right down the street from UT's most famous flagship shop is obviously not accidental. Graniph actually already has another small shop on Meiji Dori in the other direction (toward Harajuku, past Omotesando Dori).
The new shop is set for a February 13th, 2009 opening – Friday the 13th! The new location is technically in Shibuya, but it's on that stretch of Meiji Dori between Shibuya and Harajuku where some shops claim Harajuku and some claim Shibuya. We'll have to see what Graniph calls the new shop before knowing if it's their new "Harajuku" shop or their new "Shibuya" shop. We'll let you know all of that and more as opening day gets closer. Check back soon!