Quicksilver Harajuku Flagship Store Coming Soon
While walking on Meiji Dori in Harajuku on Halloween night, I noticed that they were putting up new signage on the old Energie / Miss Sixty shop location. Energie moved out of that building a few months ago and it's been vacant ever since. So, what's the new shop going to be? According to the signs it will be the new Quicksilver / Roxy Harajuku flagship shop. The opening date is listed as December 19, 2008.
Quicksilver already has a shop in Shibuya, on Shibuya Koen Dori, near the top of the hill (heading away from Shibuya Station on your way to NHK / Yoyogi Park), but this location looks like it should be bigger. They carry all of the casual skate / surf clothing you would expect including DC Shoes and other related goods.
Here is a picture of the new signs they just put up to advertise the coming Harajuku shop: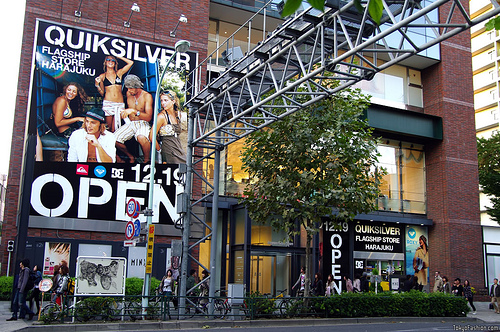 What: Quicksilver Flagship Shop (Opening December 2008)
Address: 6-25-14 Jingumae Media Square Building, Shibuya-ku, Tokyo
Nearest Train Station: Meiji-Jingu Mae Station (Harajuku Station, Omotesando Station, and Shibuya Station aren't that far off if you're willing to walk a bit)
As the grand opening date for the new Roxy / Quicksilver shop gets closer, I'll keep an eye on it and see if there is more news to report.