Sounds Good by United Arrows in Shibuya
At the end of last month, United Arrows opened a new shop in the Shibuya area of Tokyo called "Sounds Good". The Sounds Good UA sub-brand has a shop in Harajuku, and a few other locations in Japan already, but they went all out for the launch of this location.
The new shop, located on Shibuya Koen Dori near the Apple Store, is kind of crazy, with an eclectic selection of what you might call "flamboyant sportswear" mixed with high end Japanese and international fashion. The colors of the clothing carried are often bright with some crazy patterns going on on some of the items. The kids wearing this stuff will be seen walking up and down Omotesando Dori on weekends, no doubt.
Brands carried at the new shop include Nike Sportswear, Swear Shoes, North Face, Champion, and their own exclusive "Sounds Good" brand items. They carry jackets, bags, shoes, t-shirts, pants, sun glasses, and random other accessories.
The Sounds Good Shibuya store covers two stories and for the opening they had an art exhibition upstairs. The art on display is a group of sculptures that look something like robots or androids or aliens – all created out of white Nike sneakers. I don't know the name of the artist, but the effect of turning sneakers into lifelike creatures is cool. You can even see the sculptures from outside of the shop (if you're too lazy to climb the stairs) if you look up at the second story window while walking by.
In an attempt to grab attention in the hyper-commercial city that is Shibuya, the shop has created an eye-catching window display with strangely dressed mannequins standing in front of a board covered with the names of UK train stations or cities or something. The name of the shop (Sounds Good) is done in white neon, and the upstairs window, as mentioned previously, has been handed over to the Nike art show. United Arrows put a lot of work into making this store stand out, and it really does. Whether or not anyone actually buys anything is another question, but at least they are bound to get a lot of hipsters wandering in to check it out.
Here are a few exclusive pics of the outside of the shop and the artwork in the upstairs window.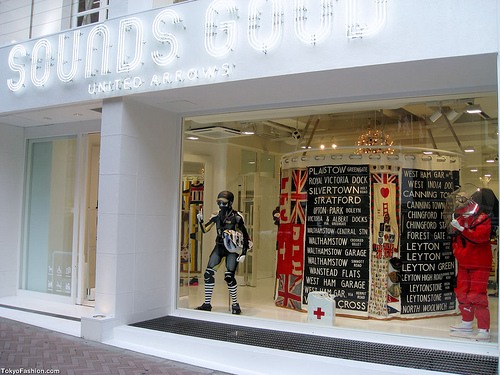 Bigger versions of the pictures are posted in the Tokyo Fashion Flickr set for Sounds Good. Here are the specifics on the shop for those who want to check it out in person:
What: Sounds Good by United Arrows
Where: Shibuya Koen Dori, Shibuya, Tokyo, Japan
Address: 1-20-11 Jinnan, Shibuya-ku, Tokyo, Japan 150-0041
Phone: 03-5457-7314
Hours: 12:00 – 21:00
Map: Sounds Good Shibuya Map
Website: Sounds-Good.jp
I'll keep an eye on the shop and update with new pics if they update the shop window with something else interesting!